How can I set up Microsoft Teams notifications for my Contacts?
The steps in this guide will only work if you have previously reached out to us and had us enable the feature for your account. If you'd like to try it out, please reach out to us via chat or email (and let us know your thoughts).
Our Teams integration can notify your contacts that their visitors (or deliveries) have arrived. If you have two-way chat enabled and have created Quick Replies, the replies will appear as buttons in the Team notification and can be clicked to expedite replying to the visitor.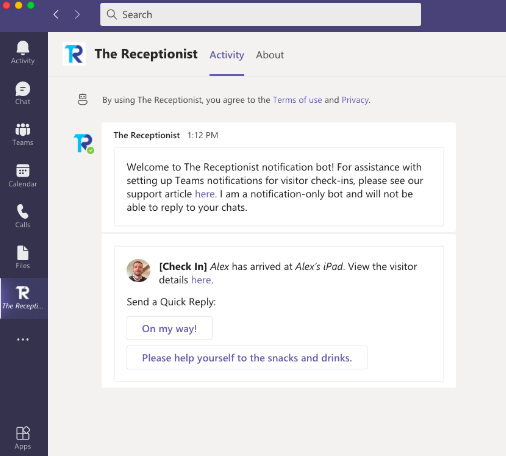 Getting started
From within a Contact's details edit page, ensure the email associated with the Contact is the same email they use to log into Teams. From there, an Account Owner should navigate to the Integrations section on our website to add the Teams integration to their account. The Microsoft consent form that appears after clicking "Add" must be completed by an administrator of the Teams organization to which the Contact belongs. Finally, the Contact should open up Teams and install The Receptionist Teams application to complete the process. If successful, the Contact's details edit page will now show a Microsoft Teams messaging preference.