---
Maintain ITAR Compliance With Visitor Management
The Receptionist for iPad is the compliance-friendly visitor management system helping manufacturers, wholesalers, distributors and more to seamlessly maintain ITAR compliance.
---
---
What Is ITAR Compliance?
---
At its most basic, being ITAR compliant means following all of the requirements of the International Traffic in Arms Regulations (ITAR). The tricky thing is that there is no strict definition of ITAR compliance, other than adhering to the law that only US persons can access items on the United States Munitions List (USML) list. 
Maintaining ITAR compliance usually requires following these general steps:
Register with the U.S. State Department's Directorate of Defense Trade Controls. There is a non-refundable fee associated with registration.

Obtain the proper licenses for the things you plan to export.

Ensure your policies and procedures are compliant with ITAR requirements, which includes following certain import and export procedures, and screening suppliers, vendors, and subcontractors.

Make sure someone at your facility is educated about ITAR and trained in how to keep your policies and procedures up to date.
If that sounds somewhat vague, well, it is! Just know that you're responsible for making sure you're following all relevant ITAR guidelines. There's no such thing as third-party certification for ITAR compliance — you must set up your systems appropriately and then make sure the rules are followed. This is where The Receptionist for iPad can help. 
How The Receptionist For iPad Ensures Your ITAR Compliance
---
Citizenship Verification
One specific thing ITAR compliance requires is verifying the citizenship of anyone who has access to sensitive information. That's where a visitor management system comes in. With The Receptionist for iPad, you can not only ask for verification of citizenship status when a visitor  checks in, but you can also print that status directly on each visitor's badge.
Badge Configuration:

Customize your badges to each visit type—like scheduled contractors and visitors. Mark those badges with special text or images so you know who needs an escort, what visitor type they are, and which employee they've entered your facility to visit. As an added level of security, customers can have the notified contact pick up the badge on the way to greet the visitor to ensure anyone with a badge has both checked in via The Receptionist and been greeted by the right employee. 

Customizable Buttons:

No two visitors are the same. Provide the most appropriate visitor experience with different buttons for different visit types, including for Returning Visitors. Ask different questions with customizable check-in flows for each button in addition to setting Required Fields. You can ask citizenship questions to ensure ITAR compliance and have separate buttons for visitors and vendors.

ID Capture: Use the ID capture feature to ask guests to confirm their citizenship status. Capture an image of the government-issued ID, including both the front and back if needed, and store in your visit log.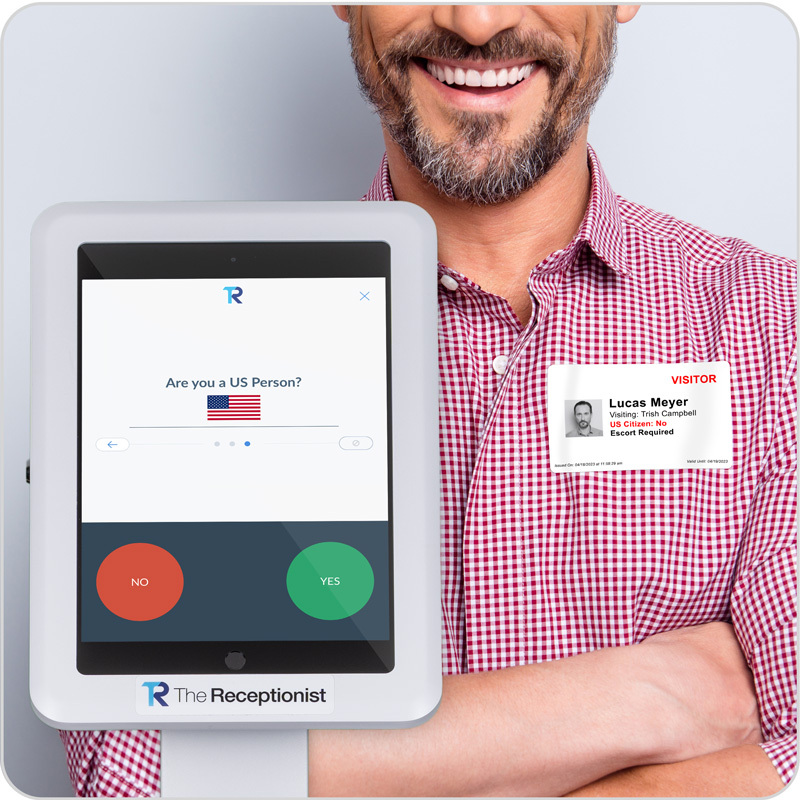 ---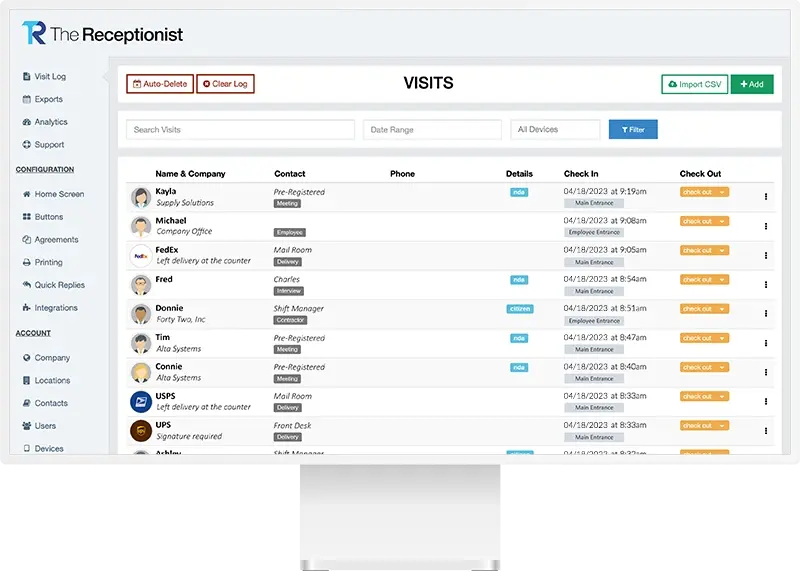 Digital Log Book
A component of ITAR requires the business to keep records of everyone who enters a facility (and thus could be exposed to sensitive information), which includes maintaining comprehensive visitor records. The Receptionist for iPad keeps a digital, easy-to-access, real-time record of every visitor. That means you'll always be able to see at a glance who's in your facility in addition to maintaining historical records of all visitor access events. Easily filter through the log and export the data whenever necessary, including instant availability in the event of an audit.
With our drag-and-drop badge editing tool, anyone at any skill level can effortlessly customize the look of your printed visitor badges to your liking.
Easily create badges that include your company's logo, the visitor's picture (did we mention all features are included in every plan?), an expiration date, and lots of other unique information.
Signing Documents and Disclosures
You can use The Receptionist for iPad to capture signatures on any required legal agreements, like NDAs and technology control plans. These digital documents and signatures are securely stored within the system under each visitor's record. This makes it easy to stay organized and ensures your business has the appropriate documentation for every visit.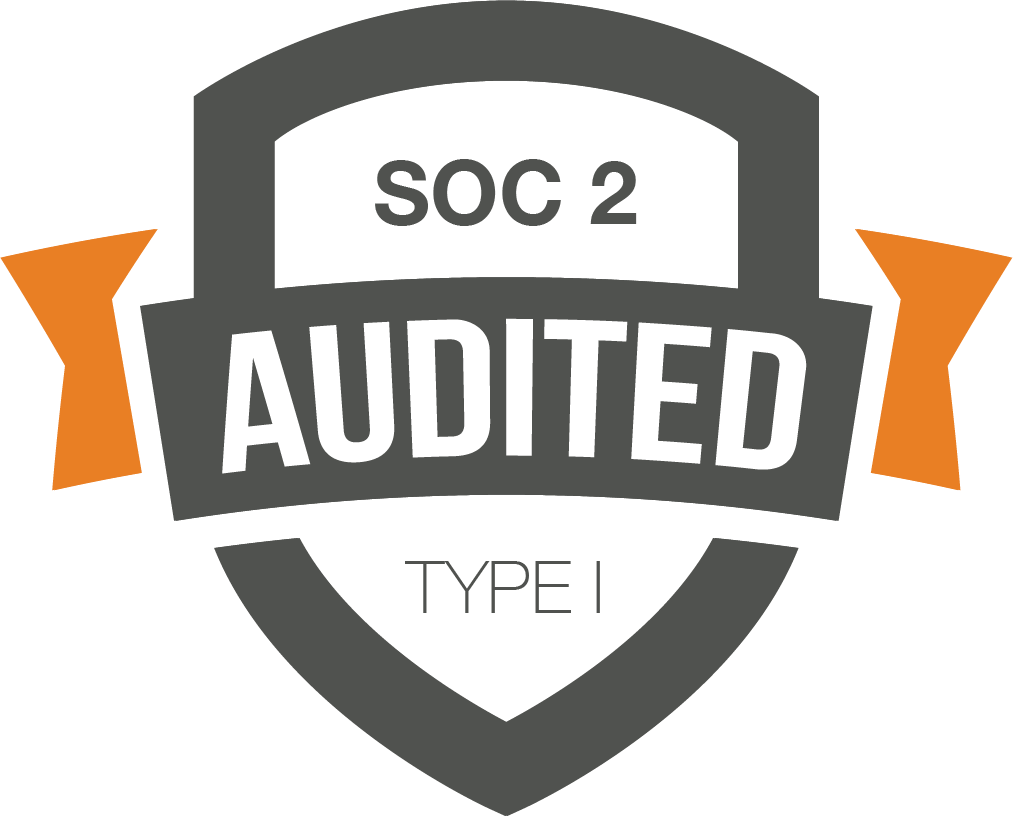 Secure Data
The Receptionist for iPad stores all your visitor information securely in the cloud on AWS servers here in the U.S. The data belongs to you and you can manage and delete it as your business needs for compliance purposes—our team will not access it unless necessary for a support request.
Safety and Security
Check visitors against watchlists to ensure they have undergone the appropriate background checks, security clearances, and/or are not in violation of trade compliance.

Allow your visitors to view safety videos before entering your facility.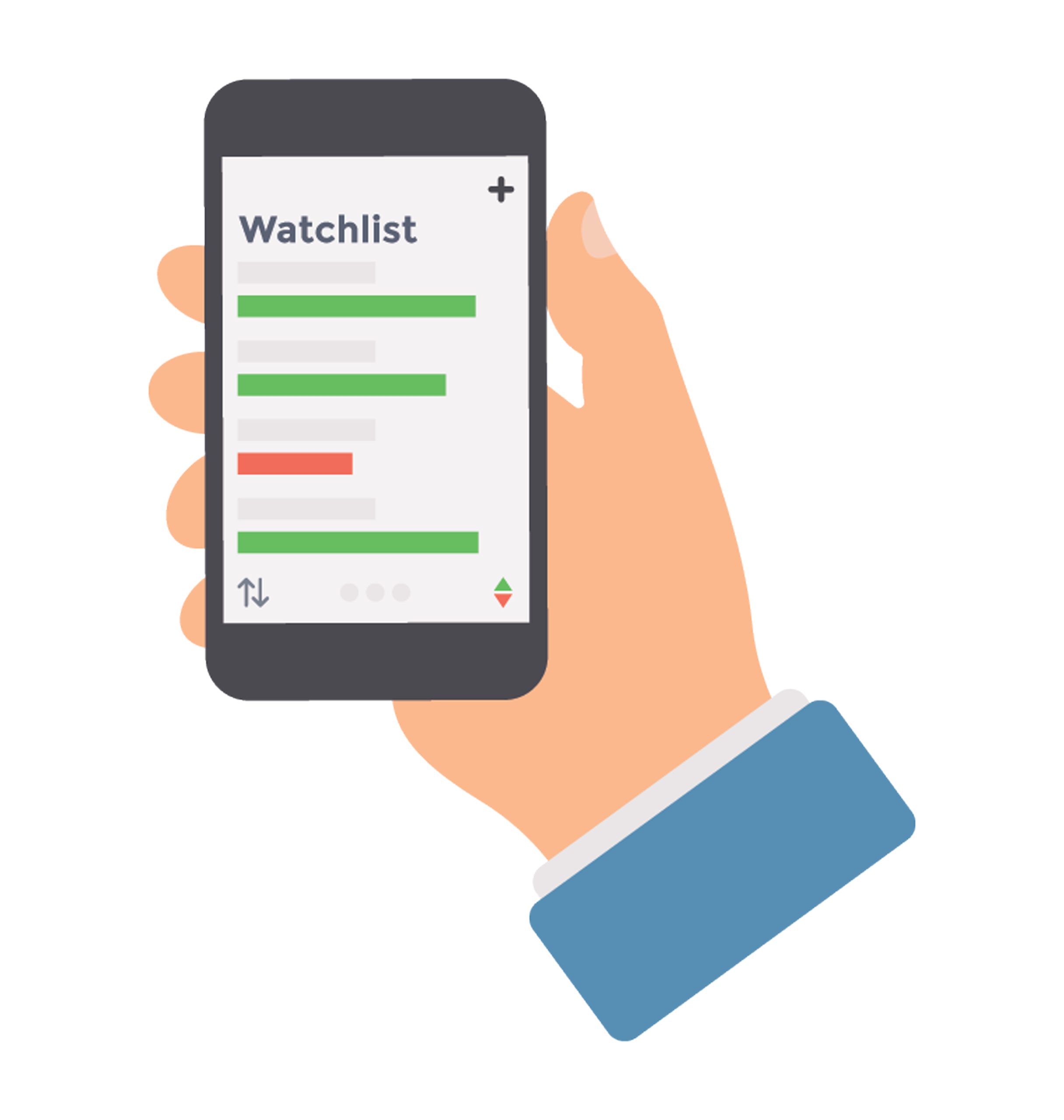 Looking for more information about how our product helps with ITAR compliance?
---
Download our PDF on Visitor Management for ITAR Compliance.
---
See how The Receptionist for iPad helps businesses maintain ITAR compliance
---
"We're involved in aerospace and government work, so we need to be ITAR certified," Mark Norton, Eclipse's Sales and Marketing manager, explained.
"You really need a good system to track and regulate who's in and out of the facility. That was our primary driver to seek out a visitor management system."
---
Mecaer America is required to be International Traffic in Arms Regulations (ITAR) compliant. That means they need to know exactly who visits their facility and be able to review their visitor log at any time in case of an audit.
When Ronald Gauthier, Mecaer America's Director of Supply Chain, and Chris O'Neill, the company's President and COO, saw The Receptionist for iPad in action at CEF Industries, a Mecaer supplier, they decided it was time for an upgrade from the pen-and-paper sign-in sheet they had been using to track visitors
. "The COO turned to me and said, 'We gotta get this!'" Gauthier says.