Congratulations! You are the proud owner of a brand new Receptionist for iPad! Get ready to say goodbye to pesky interruptions and hello to increased productivity and happier visitors.
Getting started with your Receptionist is a cinch. Our set-up wizard is designed to help get you up and going as quickly as possible. In case you need to revisit or revise any of your account settings, or to bring a colleague up to speed on how easy The Receptionist for iPad is to update, here is a step-by-step guide.
As always, feel free to visit our Support Portal for more help or to chat with one of our amazing support team members.
1. Log in
Log in to your account at https://app.thereceptionist.com/sign_in. Once you're logged in, use the left-hand menu to navigate through the set-up process.
2. Customize your home screen
Select Home Screen from the left-hand menu. Upload your logo or a welcome message or both. We recommend both — this is your opportunity to make a positive first impression, and you want that impression to be associated with your brand. Here, you can also customize your slider color. The best practice is to select a color from your logo so that the app provides a seamless, branded interface.
3. Configure your buttons
Select Buttons from the left-hand menu. Click Add in the bottom center and select the type of button you would like to add. After you've added buttons, you may edit, delete, and rearrange them directly on the screen featured in this panel. Hover your mouse over a button to make these changes.
For more help in setting up buttons, head to our Support Portal.
Check-In Button
Customize the label, icon, and colors for your check-in button.

Select which employee contacts you would like displayed during check-in.

Indicate any legal agreements you would like visitors to respond to. (See Step 5 on how to add new legal agreements).

Select employee contacts layout, security features, and desired audio.

Select

Save & Close

.
Check-Out Button
Customize the label, icon, and colors for your check-out button.

Select

Save & Close

.
Delivery Button
Customize the label, icon, and colors for your delivery button.

Select the delivery companies that frequent your business.

Select or customize messages to delivery contacts.

Select employee delivery contacts.

Determine whether you will have delivery audio options.

Select

Save & Close

.
Message Button
Customize the label, icon, and colors for your message button.

Input your customized message.

Select

Save & Close

.
If you would prefer not to have buttons, move the Skip Buttons slider on the right to the On position. If you choose not to have buttons, The iPad Receptionist will move automatically into the check-in workflow.
4. Customize visitor information collected
Under Collect Visitor Information, you can customize what information is requested of your visitors. This is a great opportunity for you to make sure to get the emails and phone numbers of anyone who walks in your door. While customer name and company field must be customized on the iPad, you can customize visitor email and phone collection from this screen. You can determine how visitors are prompted for the information. You can also indicate whether phone and email information is enabled, required, or must be validated to complete check in.
5. Upload legal agreements
Under Legal Agreements, you can upload any legal agreements you would like your visitors to enter into. Any agreements you upload here can be made available during the check-in workflow.
6. Add contacts
Your contacts are the people in your office who are available to accept visitors and who can both send notifications to and receive notifications from visitors and couriers. Here you will upload and configure your contacts.
Visit our Support Portal for more information on how to add contacts.
Inputting contacts
Select Contacts from the left-hand menu. You can either upload contacts manually or upload a CSV file. If you want to upload a CSV, first format it with separate columns for First Name, Last Name, Business Title, SMS Number, and Email Address. You can input contacts manually by selecting Add on the upper right-hand side of your screen. After filling in the desired information, click Create. To bulk upload contacts from a .csv file, select Import on the upper right-hand side of your screen. Click Choose CSV File, locate your desired file, and click Upload & Process.
Configuring contacts
After you've inputted your contacts by either method, you can configure them further.
If you are using buttons, assign contacts to the buttons and set their messaging preferences.

Messaging preferences allow you to create a "notification tree" in case someone is unavailable to receive visitors. Messages can be sent by email or SMS, and either immediately or after a specified delay.

To do this, click on a contact, assign that contact to a button, and set the messaging preferences.
In the example below, we've assigned Jessica to the CheckIn button and configured it so that when a delivery comes in, Jessica is notified immediately by email, SMS, and Slack, and Andy is notified immediately by text message. This way, Andy can receive Jessica's deliveries if she is unavailable.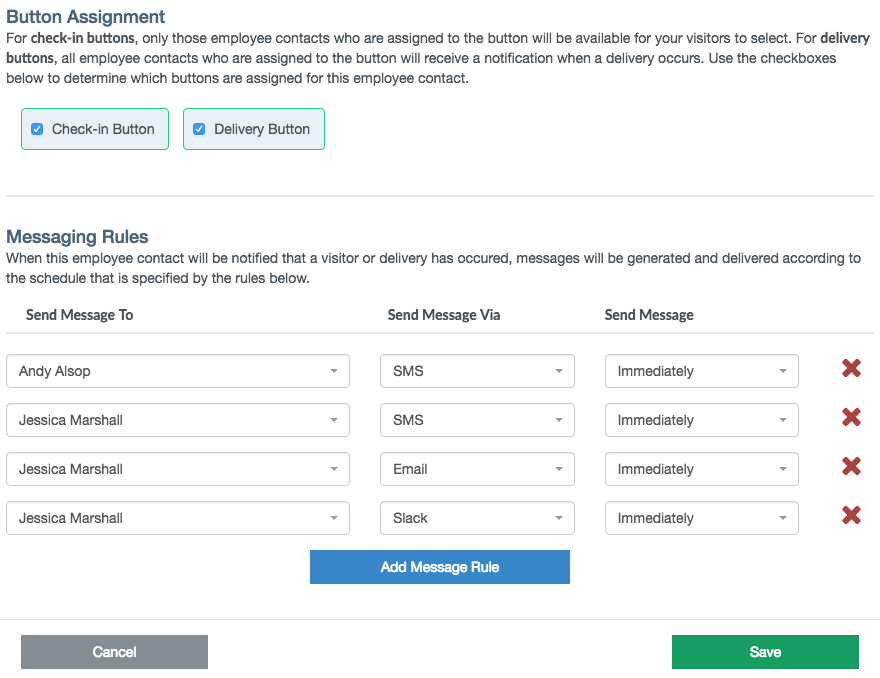 If you upload contacts beyond the limit of your current subscription plan, you can always adjust your subscription via your Account settings on the top of the left-hand menu.
7. Download app
Under Visitor Log, you can view a brief tutorial on downloading and installing The Receptionist app from the App Store.
8. Select integrations
Select which third-party integrations you would like to include in your configuration by clicking on Integrations in the left-hand menu. Slack integration, for example, allows visitors to message employees using Slack.
9. Customize visitor responses
Under Visitor Responses, you can provide your employees with easy, automatic replies to visitor requests. Customize the examples we provide for you or create your own frequently-used responses.
10. Set up badge printing
Under Badge Printing, you can choose whether or not to enable a local printer to create badges for visitors. If you enable badge printing with the slider on the right, you will be prompted to select a printer and the attributes that will be included on the printed badge. And you're ready to go! If you have any questions or encounter any problems with your setup process, we are here to help! Call us at 888-315-5230, email us at support@thereceptionist.com, or visit our Support Portal.