Are you a startup company? We're a startup too so we totally understand the need to have the coolest, most modern space to work in. What's cooler than having a virtual iPad Receptionist waiting to greet your visitors? SMS and email notifications? A better way to keep track of office deliveries? A sleek and sexy user interface?
Well, how about all of the above, which is why many co-working spaces and startup companies are so eager to jump on board with an iPad Receptionist.
LevelUp, a Google Ventures backed mobile payment startup did just that. Prior to employing an iPad Receptionist, LevelUp had a manned desk near the reception area. With a high volume of visitors coming in and out and not everyone available via Gchat, they found themselves running all over the office to track staff members down for visitors. It wasn't long before they realized this method of visitor management is just too inefficient.
That is when they stumbled upon us and started setting up their iPad Receptionist.
"We have named our virtual receptionist Miley, and she is great! Customers really get a kick out of the interaction with her when they walk through the door and sign in. And it's convenient the way Miley sends notifications to our phones, as well as email alerts after they have done so. Most people find her interface very intuitive. Guests have asked many times where they can get a virtual receptionist. And I always smile and tell them iPad Receptionist!!!"
After deploying iPad Receptionist in their lobby, there is no doubt that LevelUp has reached a whole new level of epicness in regards to their reputation. They can now effectively track visitors and contact staff, all while making a great impression on each and every person who walks through their door.
Enhance your startup's office image and get started today with your very own iPad Receptionist.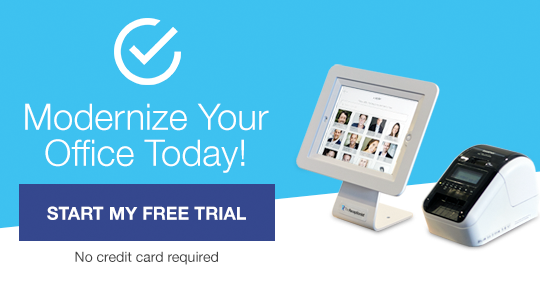 Please follow and like us: