Employee Check-In With The Receptionist for iPad
Know when your employees are on site, keep a record of key data, and help safeguard your workplace.
Register for our Live Demo of Employee Check-In
---
Employee Check-In is more valuable than ever for your business. Knowing who is in the workplace will help you to limit capacity, contact trace if necessary, and ultimately keep your doors open. Use our contactless check-in feature on your employee buttons and further reduce risk of infectious disease transmission.
Sign up for our upcoming webinar about taking full advantage of our employee check-in button on Wednesday, September 23rd.
---
Date: Wednesday, September 23, 2020
Time: 1:30 p.m. Mountain Time (MT)
Duration: 45-60 minutes
---
---
Protect your team with employee check-in
An employee check-in policy is essential for taking quick action when issues arise. Fortunately, The Receptionist for iPad makes implementation easy with a customizable employee button. Enable contactless on your employee buttons and allow employees to answer questions and check-in remotely using QR code scanning or a unique URL, without needing to touch the iPad.
Say an employee tests positive for COVID-19 or another communicable illness. Do you have a way of knowing which employees they came into contact with?
The employee button enables both check-in and check-out for any team members that you specify. You can also assign 4 or 5 digit pin numbers for each person in order to prevent accidental check-ins. The process is quick and easy, and will help ease any worry your employees may have about coming back to work.
As your team members check in and out, your visitor log populates with date, time, and any other details that you specify. Your log can be filtered by searching a specific name, or by selecting a check-in date range.
---
---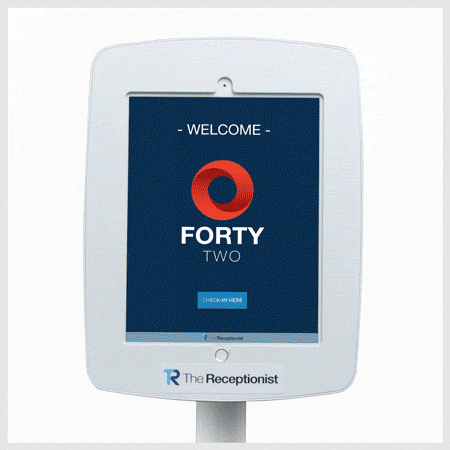 Protect your team. Limit Capacity. Ease anxiety.
Learn more about employee check-in by watching the video below!
---
Start a 14-day free trial and create a seamless employee check-in experience
Secure, Private and Easy-to-Use Check-In For Your Employees and Visitors

---
Try us out at your business for free. Start a 14-day free trial (no credit card required) to see how we can ease check-in anxiety.
14-day free trial
---