Sometimes the volume of feedback your company receives can be overwhelming.
First there are the support and feature requests from your customers. Then there are questions from prospective clients coming in via social media mentions, emails, blog comments, and phone calls. And last but not least, there's the world of online reviews.
Because we're a software company, many of our reviews are posted in places like Capterra and G2 Crowd. However, other reviews can come in from all over the internet: Yelp, Facebook, Google, just to name a few.
At a minimum, all companies should monitor reviews as they're posted so they can put out any fires. Plenty of companies only do one step better, racing to respond to negative reviews so they can put things right, and giving brief responses at best to most of the others.
However, we like to respond to every review posted about us online, both positive and negative. We also try to reply with the same level of enthusiasm and amount of detail that the reviewer used when they wrote their review.
Yes, this takes time and energy. But here's why it's worth it:
It Sets us Apart
Maybe you've noticed that it's rare for a company to make the effort to respond to every single review posted about their product.
So, when you see a company responding to each review publicly, it makes an impression, especially if you're the only one among your competitors doing it.
We believe these responses show that while other companies pay lip service to being customer-focused, we are willing to actually demonstrate that service in real time.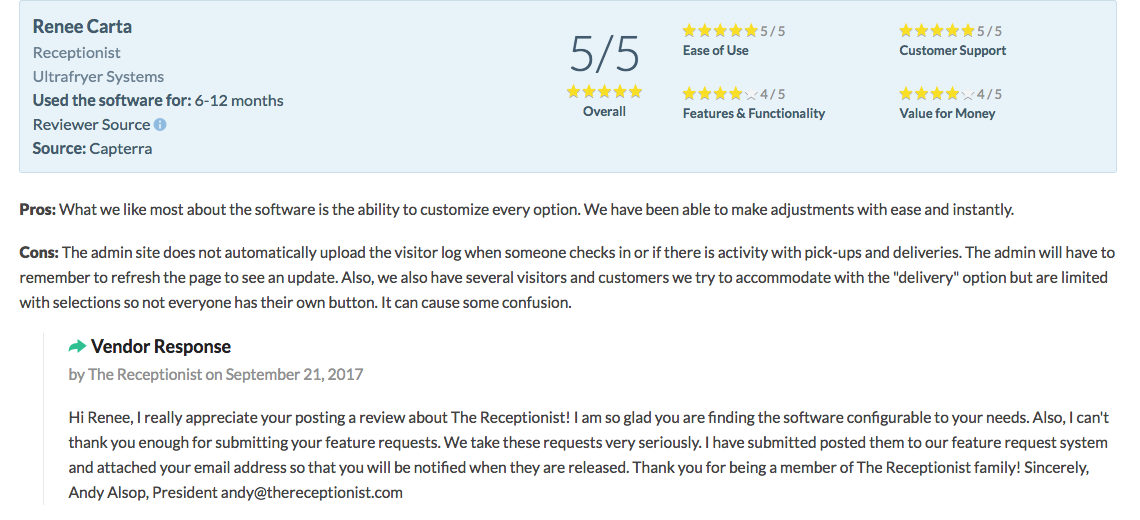 It Keeps us Accountable
We're committed to providing radical customer support throughout our company.
In replying to every review (and including a real, personal email address in each response), we hold ourselves accountable to that commitment in a public way. The responses show that we interact with our customers on a personal level to build real relationships with them.
Frankly, companies should already be taking the time to monitor each review posted online and move any feedback or feature requests into a tracking or production system. So it shouldn't be too much of a stretch to type out a response as you go through and read each one. Responses prove that each review has been seen and sent through the proper internal channels.
It Encourages More Feedback
Sure, dealing with feedback takes time, especially if you don't have a dedicated support system and staff in place.
However, feedback is the best — and perhaps only — way to get real insight into your customers' experience. Your customers are doing you a favor each time they reach out to you with insights. Their review probably reflects what many other customers have experienced and just not taken the time to submit.
When you reply to every review, you increase the odds that you'll continue to get feedback from that customer in the future because they feel heard and appreciated. The customer may even reply to your reply, opening the doors for a productive conversation.
It Can Boost Online Visibility
By replying to every review, you could be giving your company a visibility boost online.
Search engines like Google often prioritize search results with more content, for example. And algorithms on social media sites like Facebook prioritize posts with the most activity.
If you comment using phrases and language that your customers use to search for your product, all the better. But the most important thing is that by replying to every review, you're leaving a bigger online footprint and more data for prospective customers to find. You don't get that benefit when you cherry-pick which reviews deserve a thoughtful response.
It Makes Us Look Good
As long as you respond calmly and appropriately to reviews, your company comes across looking great.
When your voice isn't heard on a page discussing your company, you don't control the narrative. Even if the reviewers are saying positive things about you, you're missing out on an opportunity to look even better!
This Help Scout post had a great point about encouraging companies to read reviews as if they were being spoken directly to them in person, and responding in the same context. You certainly wouldn't ignore someone who made a comment to you in real life. You also wouldn't give a super brief response to an insight that was carefully thought out and detailed. The same idea applies online.
Making it Happen
As you probably know, it's not enough to just post any response to your reviews. You need to decide who is going to be in charge of monitoring and responding to reviews, then make sure they have the resources to do it well.
For example, no one is going to like the responsibility of responding to reviews if that job just gets piled on top of an already-full to-do list. The task of responding to reviews should be done as part of someone's regular schedule. The best candidate will be someone on your staff who has a real incentive to keep customers happy and who has a deep understanding of your company's brand and tone.
Anyone responding to online reviews should have a deep understanding of your brand. #receptionistapp
Click To Tweet
This might be someone in marketing or on your customer support team, but the best candidate for the job might also be the CEO. At The Receptionist, the person in charge of posting review responses is often Andy, our president (Related: Here's What Happens When Your CEO Takes Customer Calls).
But review duty doesn't have to be taken on by the same person all the time. Consider periodically rotating the job. That way, everyone has a vested interest in the review process and understands the expectation of customer satisfaction both in-person and online. Having multiple people comfortable with responding to reviews also ensures that there's always someone available to do it.
So, what's your strategy for handling online reviews? Tweet us and let us know at @ReceptionistApp. And if you'd like to try our customer-focused visitor management software, start your 14-day free trial now.