Even before health and wellness co-working space WellnessSpace opened its doors in Houston, Texas, during the pandemic, co-founders Sunny Somaiya and Dr. Sonia Krish knew that the visitor experience would not look like what many are used to at healthcare offices.
We're all familiar with waiting in line to check-in at the doctor's office. Often, the front desk receptionists are juggling several tasks at once: fielding calls, printing records, and directing other patients to appointments or testing rooms. It can be a stressful experience before you even get to your provider—especially if you're still waiting in that line while your appointment time is ticking by. 
Sunny and Dr. Krish wanted something different for WellnessSpace, a modern and innovative business designed to help providers rent affordable, move-in ready space and build a patient base without needing to spend a fortune renting a large office space. They envisioned a digital check-in experience for the building that would match WellnessSpace's forward-thinking values from the business's inception. 
"We wanted to eliminate the hassle," Sunny said, "and streamline the process for cost, efficiency, and technology into a type of a format that works more effectively."
Instead of making visitors wait in a stress-inducing lobby, Sunny and Dr. Krish wanted to provide patients with a simple and intuitive way to check-in, answer any necessary intake questions, and let their provider know they had arrived. And because WellnessSpace offers suites to a diverse group of practitioners, like any other coworking space, the solution needed to be easy to customize.
WellnessSpace had already selected coworking software that had a digital check-in feature, but the platform feature required visitors to enter their full first and last names upon arrival, which would compromise the privacy of patients. Sunny and Dr. Krish wanted a more flexible option that required patients to provide only vital information, like their first name and who they were there to see. They turned to a Google search in the hopes of finding that solution.
That led them to The Receptionist for iPad. Right off the bat, Sunny and Dr. Krish liked that the check-in experience could be modified easily to meet WellnessSpace's patient privacy needs. They were also drawn to the fact that The Receptionist focused solely on visitor management, unlike other software options that offered digital check-in as an 'add-on' to other features.
"There's a reputation that comes along with The Receptionist, knowing that this [digital check-in] is what you guys do," Sunny said. "I knew that all your attention was on making the app as reliable and robust as possible."
The Receptionist's singular focus on stress-free visitor management meant Sunny and Dr. Krish could trust the app would work for the purpose they needed — providing a radical experience to patients while ensuring their privacy. And with that, they implemented The Receptionist for iPad, which was ready for use when WellnessSpace opened its doors in October 2020.
Visitor management helps both practitioner and patient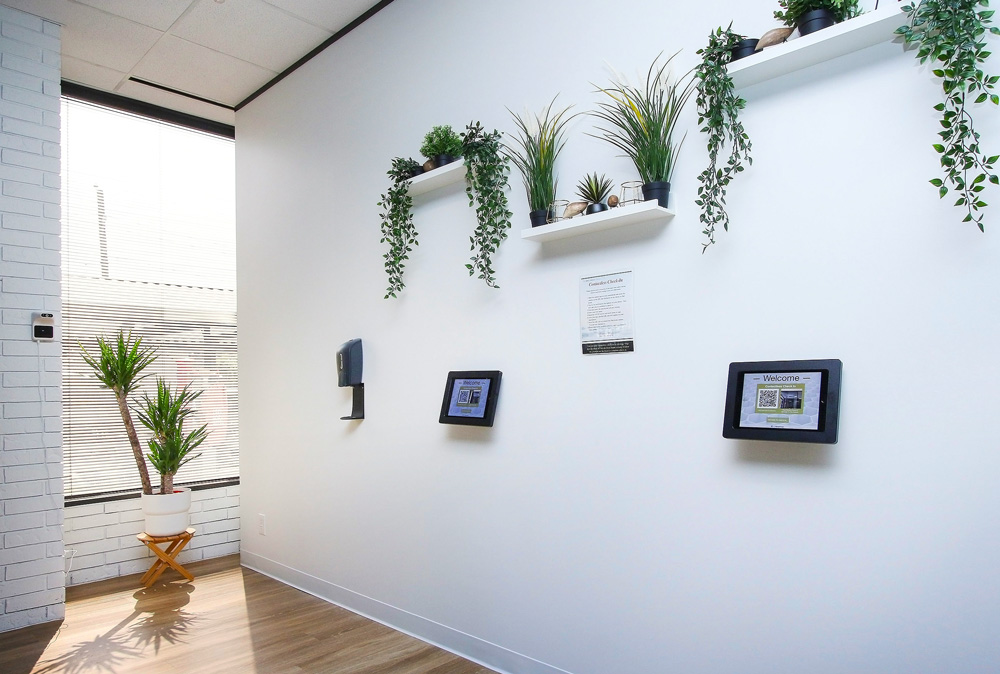 Now, the two sleek iPad kiosks at the front of WellnessSpace are the first thing the co-founders show potential providers when they give them a tour. Most practitioners that rent at WellnessSpace had never benefited from a visitor management system like The Receptionist for iPad. In a space where every patient is crucial, they especially appreciate that the system helps them avoid not knowing a visitor is waiting anxiously for them in the lobby, potentially losing that patient.
"Not only do our practitioners love it, but patients love it as well," Sunny said. "Our very first patient that came in was immediately blown away."
The Receptionist has provided unexpected benefits beyond the initial patient check-in process WellnessSpace imagined. The business opened amidst the full-swing of the coronavirus pandemic, so the rollout of The Receptionist for iPad's contactless feature was a welcomed safety precaution, removing an extra contact point between patient and iPad. The Receptionist for iPad also made it easy for WellnessSpace to add COVID-19 agreement forms and assessment questions to the check-in process.
Improving patient experiences now and in the future
In the future, and a post-COVID world, Sunny and Dr. Krish imagine that WellnessSpace's growth will likely lead to a dedicated front receptionist, but that doesn't mean they won't need The Receptionist for iPad anymore. Patients will still be able to promptly check in on the iPad and let their practitioner know they've arrived, so the person at the front desk can focus on forming that crucial human connection, greeting them with a friendly smile, and ensuring they have everything they need for their appointment.
For now, The Receptionist helps WellnessSpace provide intuitive and stress-free check-ins, all while keeping the patient's experience, privacy, and health top-of-mind.
Read more about how The Receptionist for iPad has helped improve stress levels in other behavioral health and wellness practice lobbies here. If you're interested in implementing The Receptionist for iPad at your business, you can try us out for free! 
You can find out more about WellnessSpace at their website, or give them a call at (832) 831-7367.