Although visitor check-in apps look deceptively simple on the front-end, there's a pretty wide gap in their respective capabilities.
The best programs on the market come loaded with valuable features. Although it might be difficult to put a dollar value on some of those features right away, they can save your business money and boost revenue significantly over time. They do it by freeing up time for employees, helping your staff avoid expensive mistakes, and improving visitors' experience in the office — just to name a few.
Those powerful features can mean that there's a significant difference in the ROI of the most advanced programs on the market and the simpler programs at lower price points.
If you're wondering what you really get for the monthly price of the best modern visitor systems, we break it all down here.
Check-in Features
Most visitor management apps have some form of self-service that allows visitors to start the check-in process on their own at a kiosk.
But the best apps do much more than keep a simple record of each visitor's name and check-in time. They can handle the entire check-in process, in some cases with very little need for an employee's guidance.
Namely, users of top-tier software can categorize visit types and set up custom check-in processes for each one. The resulting automated workflows can reduce training time for your admin staff and reduce the odds of mistakes.
If your office has heightened safety and compliance needs, it's even more important that no steps are missed during the visitor check-in process. Otherwise, you could risk fines, violations, and hazards to visitors and employees. That's why choosing a program that can adapt the check-in process on-the-spot based on the visitor's purpose is so important.
Other valuable check-in features include:
The ability to digitally collect and store electronic legal documents – The best visitor management apps can both collect securely store visitor-related legal documents, along with their metadata, in the cloud. This digital storage can free up physical space in your office or save you on digital storage if you've been paying for it elsewhere.
A quicker sign-in process for guests – No office visitor loves sitting in the lobby filling out paperwork. With the best visitor management software, frequent or returning visitors can opt to store their personal information so they don't have to type it in again next time. Hosts can opt to pre-register scheduled visitors in the software so that visitors can simply approve their personal information upon arrival.
Video incorporation – Advanced visitor management software makes it easy to make safety videos, training videos, or other introductory videos a natural part of the check-in process.
A branded check-in – Your office visitors will likely be impressed when they see a sleek tablet instead of a paper and pen at the front desk. But the best visitor management software also allows users to customize each screen with on-brand colors and images until it looks just the way you want it.
Better Visitor Badge Design and Printing
Many visitor management apps connect to some sort of badge printer. But only the best ones let your staff completely customize the badges with a drag-and-drop badge designer.
You shouldn't require any design experience to be able to create branded badges that emphasize their most important information.
In the best visitor management systems, badges are printed seamlessly as part of the check-in process. The badges can even include photo IDs that visitors take themselves with the tablet as part of the check-in process. Facial recognition technology ensures that faces are fully visible in each ID photo.
Better Visitor Notification and Messaging Features
Simpler visitor check-in apps might leave the notifications to the front desk staff or even send a single email to announce visitors. But more advanced programs will make sure that those notifications get the attention they deserve.
With the best visitor management software, employees can specify how they want to be notified when their visitors arrive, including the means (by SMS or with a Slack notification, for example) and the timing (for example, how long to wait before pinging them again). In fact, they can send messages directly to their visitor through the check in app, so that the host and visitor can chat in real time.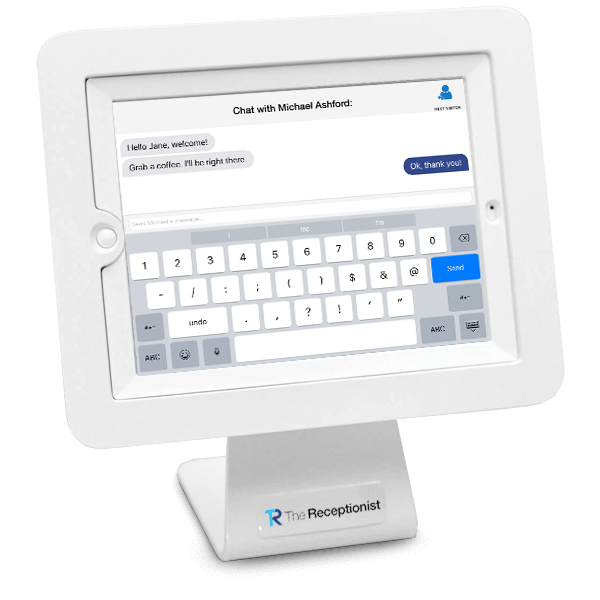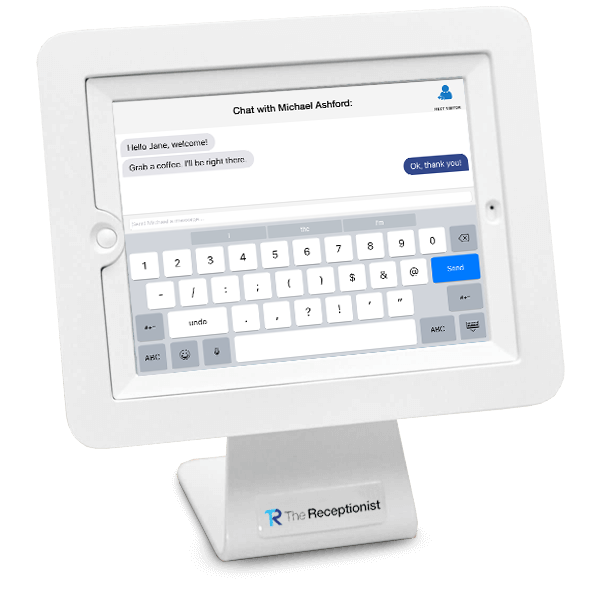 They can even identify backup contacts so that the system can notify their colleagues if unable to respond immediately to a visitor.
Top-tier visitor software also makes department-wide or even office-wide visitor notifications easy. For example, admins can establish that all HR employees should be notified when job interview candidates arrive, or that everyone in the office should get a general notification to alert them of visitors in the office. These group notifications can help set the expectation that unannounced, uncredentialed visitors always deserve extra scrutiny.
Better Reports and Data
Understanding who visits your office and for what reasons can yield valuable insights.
The best visitor management software programs produce much more than a simple log of names and check-in times. They make it easy for managers to filter and sort visitor data by date ranges and other criteria to spot trends in visitor traffic.
Managers can use this data to plan office staff and resources more effectively — and save money in the process.
Peace of Mind in Emergencies
When you can access a real-time list of all office visitors from any internet-connected device, it's easy to account for visitors in the case of an emergency evacuation. Simpler programs may lack a shortcut to this important feature.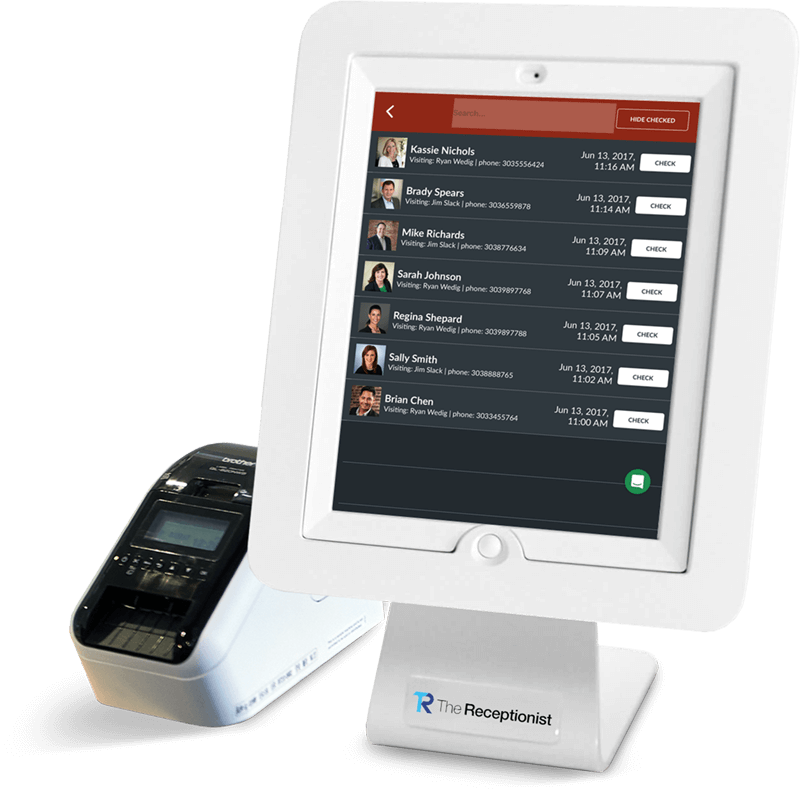 Built-In Visitor Privacy Protections
Companies are responsible for protecting any personal data in their care, and visitor data should be no exception.
Click To Tweet
Top visitor management software makes this easier because it can be set up to delete visitors' personal details automatically at intervals you specify (end of each day or week).
Visitors can also decide whether they want personal information stored in the visitor management system at all. In the case of some companies, such as those expected to comply with the GDPR, this can be a matter of legal compliance.
The Bottom Line
Almost all digital sign-in tools improve the visitor check-in experience by removing paper and adding privacy compared to an old-fashioned paper visitor log.
But simpler check-in tools come with fewer benefits. The big returns on investment only come with the features that can automate the check-in process more completely. This paves the way for the following savings:
Reduced administrative costs. Robust software makes it easier to onboard new front-desk employees and frees up their time for more valuable work. In some cases, companies that thought they needed to bring on additional front desk staff may find that it's not necessary thanks to visitor management software.
Valuable first impressions. Better visitor management software can provide the most on-brand, streamlined check-in process possible, which can make a distinct impression on visitors even if they arrive when the live receptionist has stepped away from the desk. If this good impression helps you land just one more important client or star hire, the ROI on your visitor software shoots up quickly.
Increased safety, security, and compliance. The robust features and reports that come with better software help ensure only credentialed on-site visitors. If better software helps you avoid just one data breach, lawsuit, accident, or crime that targets your business, you've likely reaped a huge return on your investment.
If you're ready to try the best visitor management software, check out The Receptionist for iPad today. Our software has been top-rated by our customers (just check out the reviews!) and we offer a free, 14-day trial so you can see all the features for yourself.