Your office lobby area is your company's first chance to make a big impression on visitors.
There are lots of ways to make sure that the first impression is a good one. In fact, we've discussed many of them on our blog recently. Here are a few, if you want to catch up:
All of those efforts go a long way toward the impression you'll want to make. However, some offices take it a step further by incorporating a can't-miss, statement-making feature for visitors to see as soon as they walk in.
Not all of these features will be a good fit for your business; some are more affordable than others, and not all will make sense with your company's brand. But choosing an appropriate, interesting focal point in the reception area can make a big difference in how it feels.
Here are a few elements to explore:
Living Walls
Plants have long had a home atop office desks. These days, though, some companies are making the upgrade to so-called "vertical gardens" and "living walls." One landscape artist recently told the New York Times that these types of focal points are becoming a "huge trend" in lobbies.
These living walls may take the form of a flat panel covered with moss or ivy, framed succulents growing out from the wall, or a "pot grid" full of traditionally potted plants that create a partition. Plants may also be trained to grow up trellises, or to hang down from the top of walls for a different look.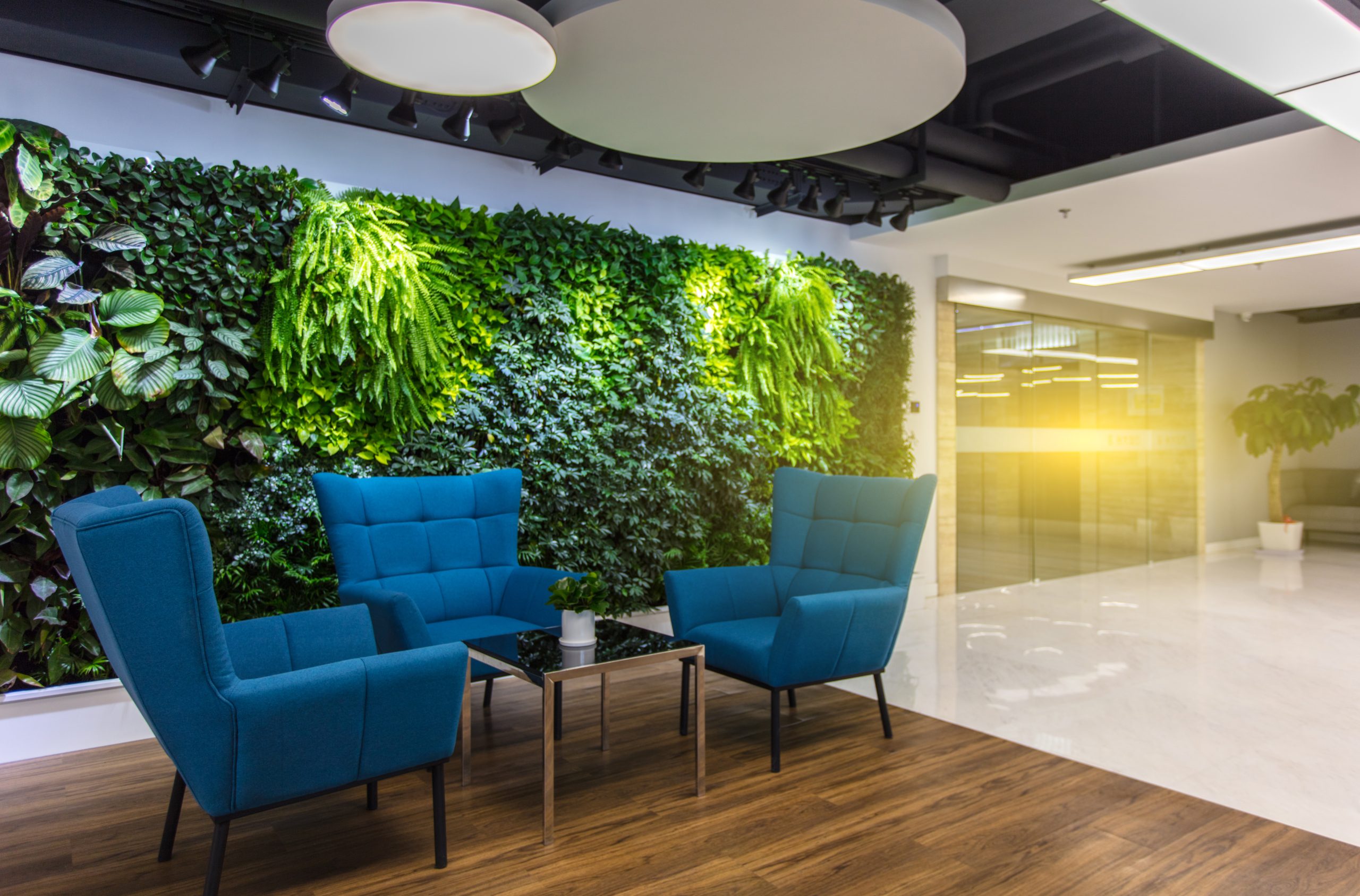 Fans of living walls say that bringing greenery indoors makes a space more peaceful and welcoming, and can improve air quality by increasing oxygen production. Some vertical gardens even incorporate a water feature so guests can enjoy the soothing sound of water falling as they wait.
These installations do need a source of light, whether it's natural light or from grow lights. However, they often come with self-irrigating systems to keep maintenance simple.
Dramatic Windows and Lighting
Natural light beats artificial light, if you can get it.
Work Design's comprehensive feature on natural light in the office notes that "research over the past few years from the International WELL Building Institute, Human Spaces, and the World Green Building Council has all demonstrated the importance of natural light in employee engagement and productivity."
It also cited a study that found that "75.8 percent state that natural light is important to them, yet only 56.9 percent are satisfied with the offering in their workplace."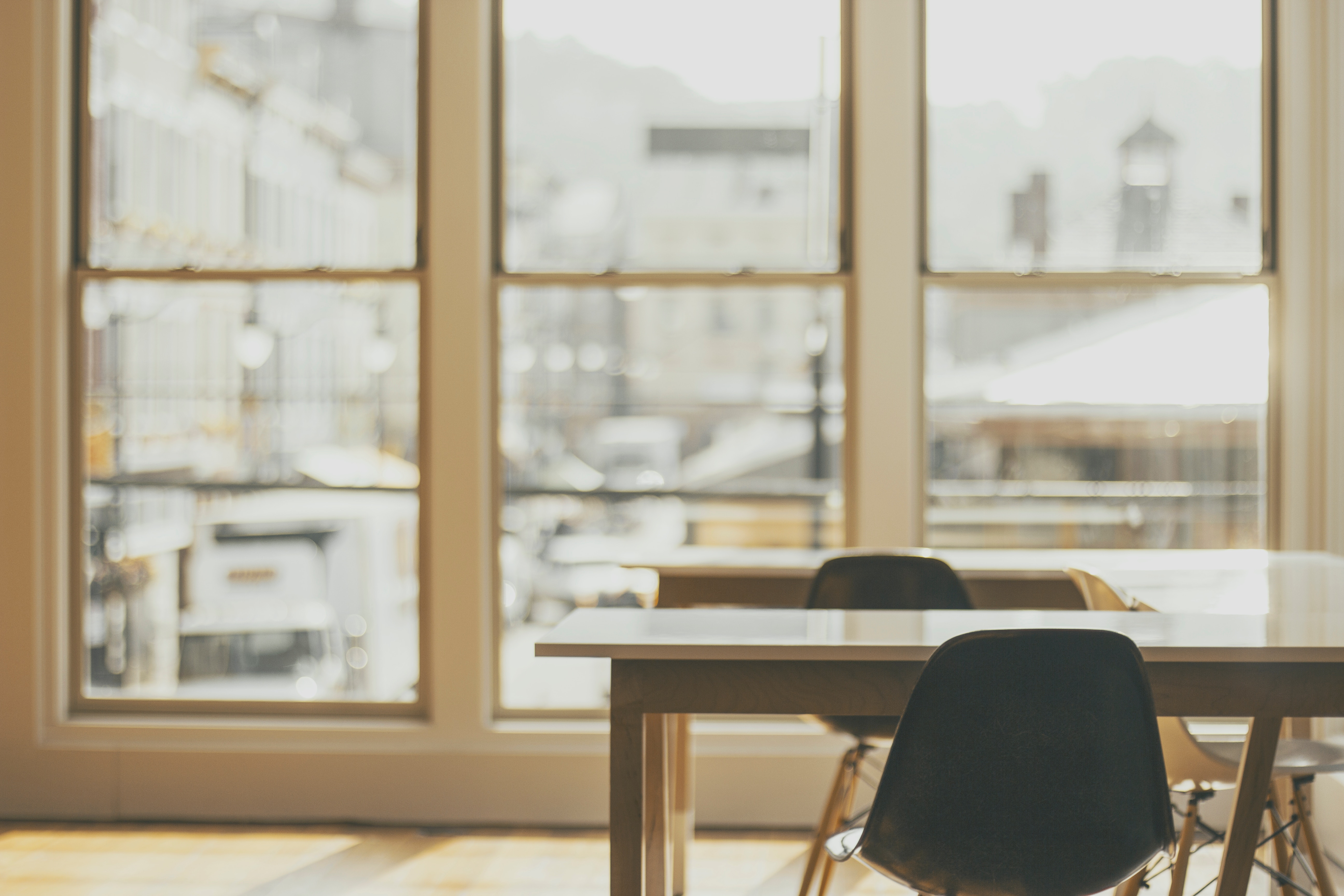 Light plays an important role in our health because it regulates our sleep patterns. You may have heard that exposure to blue wavelength light from electronic devices can disrupt your circadian rhythm if you're exposed to too much of it at night. But that same blue light — abundant in sunlight — can have an energizing and mood boosting effect in the morning and during daytime hours.
Filling your reception area with large windows or skylights can result in a "wow" impression for visitors, and it can also benefit the whole staff if that light filters through to the rest of the space. (Note that direct sunlight can also strain your employees' eyes, so some careful planning and assessment on how the sun's rays naturally hit your office is essential before you make any big changes.)
If you can't afford to install bigger windows or reconfigure your office's walls, partitions, overhangs and furniture to maximize natural light, you can make a dramatic impression with your lighting in other ways.
Try experimenting with interesting light fixtures, lamps and recessed lighting in the ceiling or walls. There are plenty of lighting features for sale online that would make a great focal point for your office. You can even try using bulbs that mimic the look of daylight.
Original Art
Curator Katarina Wong makes a good point in this Entrepreneur piece: "Paying attention to what's on the office walls is one of the most effective ways to control what the environment is communicating."
That's why original art, whether it's a large mural behind the reception desk or some framed pieces in the seating area, can be a great "wow factor" in the lobby.
Art is arguably lower maintenance than a large "living wall" or floor-to-ceiling window installation, and it's much easier to change out when you want a fresh look.
Businesses with larger budgets can work with curators, or they can commission works by more established artists. However, you don't need lots of cash to get original art. Wong advises businesses with lower budgets to sponsor work by MFA students or other emerging artists.
Remember that all reception area art makes an impression. Even the bland, generic pieces that adorn most reception area walls communicate something: that the office has no real personality of its own.
Custom Lobby Signs
If you don't already have a custom sign with your company's logo in the reception area, adding a professional, eye-catching one can add a real wow factor.
Many signage companies offer colorful backlit options that can look great hanging behind or even in the front of a reception desk. Other upgrades include signs made of solid metal (such as aluminum, brass, grained aluminum) or high-end solid wood, or with three-dimensional foam letters. Some hip companies might even opt for a custom neon sign.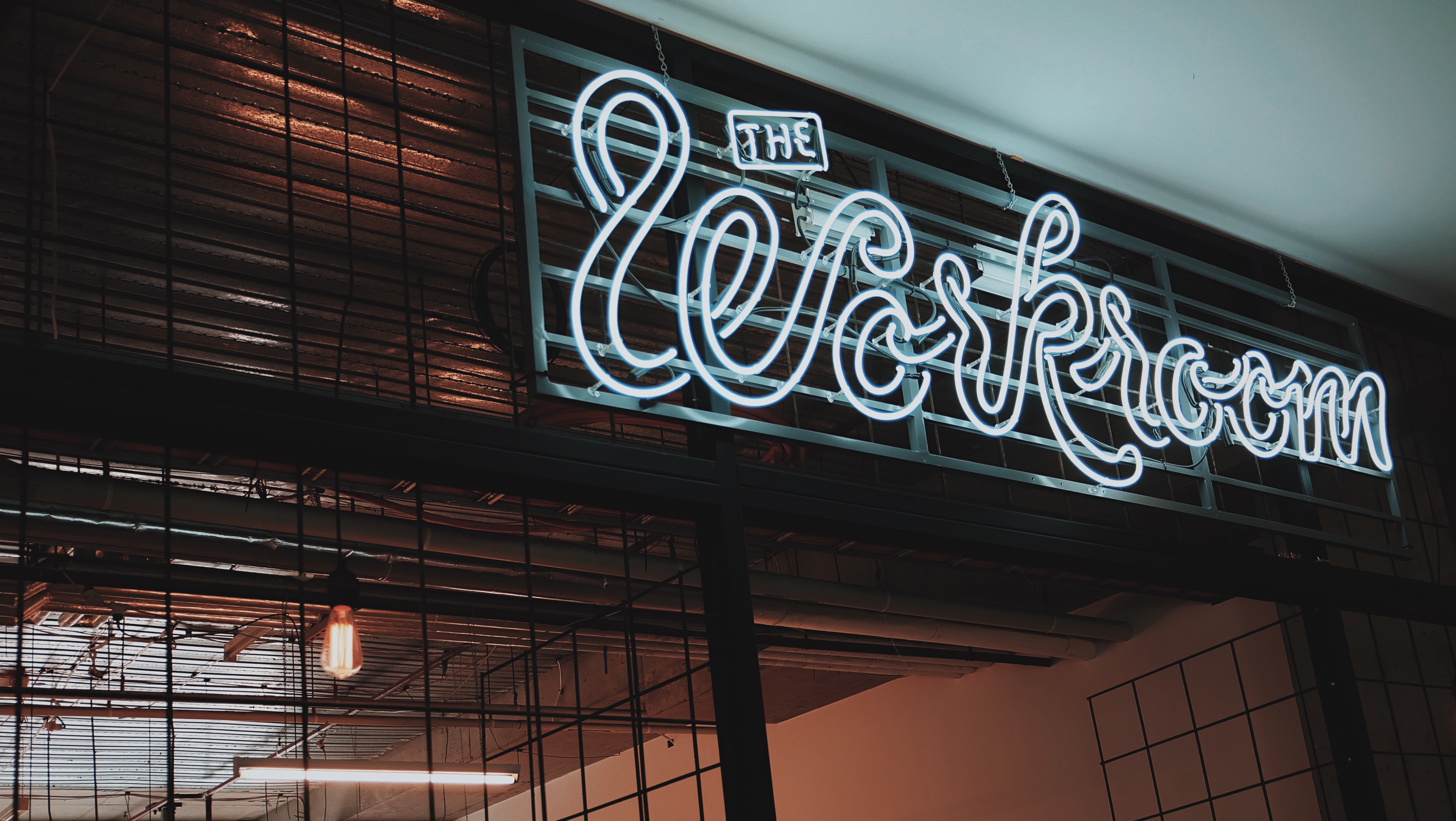 Whatever type of sign you choose, make sure it's consistent with your brand. Signmaker Lightbox Graphix has the following examples on its blog: "A luxury spa that highlights its back-to-nature brand message will do well with wood or granite for a lobby sign. The architect who is known for innovation may look to glass and stainless steel as a material combo for the reception area marker."
As we mentioned in our post on modern office tools, digital display screens are also playing an increasingly prominent role in reception areas. These can add an element of movement and the ultimate level of customizability to static signs. Some organizations even opt for entire digital walls in their reception area to make a can't-miss impression on visitors. (This one in Salesforce's San Francisco headquarters is amazing, for example.)
Finally, remember that even the best designed lobby can't make a good impression if the visitor check-in process is chaotic or awkward.
At The Receptionist, we make sure that guests are treated right with our tablet-based visitor check-in system. Companies can completely customize the visitor check-in process, pre-register VIP visitors, and set up custom notifications to individual employees when the visitors arrive. They can even communicate with those visitors directly from the tablet as they check in.
If you'd like to try these and the rest of our features for yourself, click here to start your free 14-day trial.