While you were hopefully enjoying a relaxing summer vacation on a tropical isle, the Engineering team at The Receptionist was hard at work making your office check-in process even more awesome. Version 3.0 includes many more button options so that you can create an even more highly customized check-in process for your visitors. Read on for more details, along with a sneak peek at what's coming up next. To update your app, go to the Apple App Store and search for "Receptionist" and version 3.0.0.
More buttons and delivery options for a more flexible check-in process
Have more than four types of visitors? No problem, you can now display up to six buttons. That means you can design the ideal reception experience for everyone who enters your office, be they customers, job candidates, delivery personnel, employees' family and guests, inspectors, or other business guests. Within each button, you can customize the check-in process for each type of visitor to your office or facility. For example, you might want to print badges for customers, but not for guests attending weekly Lunch and Learns. Or, you may need to verify citizenship for certain types of guests. Whatever visitor workflows you require, The Receptionist for iPad has you covered.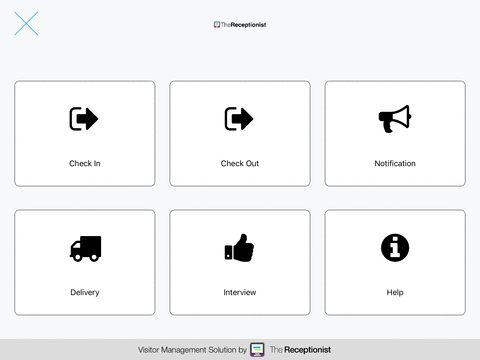 We've also made the delivery button more flexible. Rather than being limited to preset delivery carriers and delivery messages, you can now create your own! Just click on the + and add your delivery icon (like pizza):

Customizable button appearance to better reflect your brand
Everything in your office should reflect your brand, from your decor down to your technology. That's why we gave you the flexibility to customize the button style on your Receptionist for iPad. From the Buttons page of your dashboard, click Edit Global Button Styles.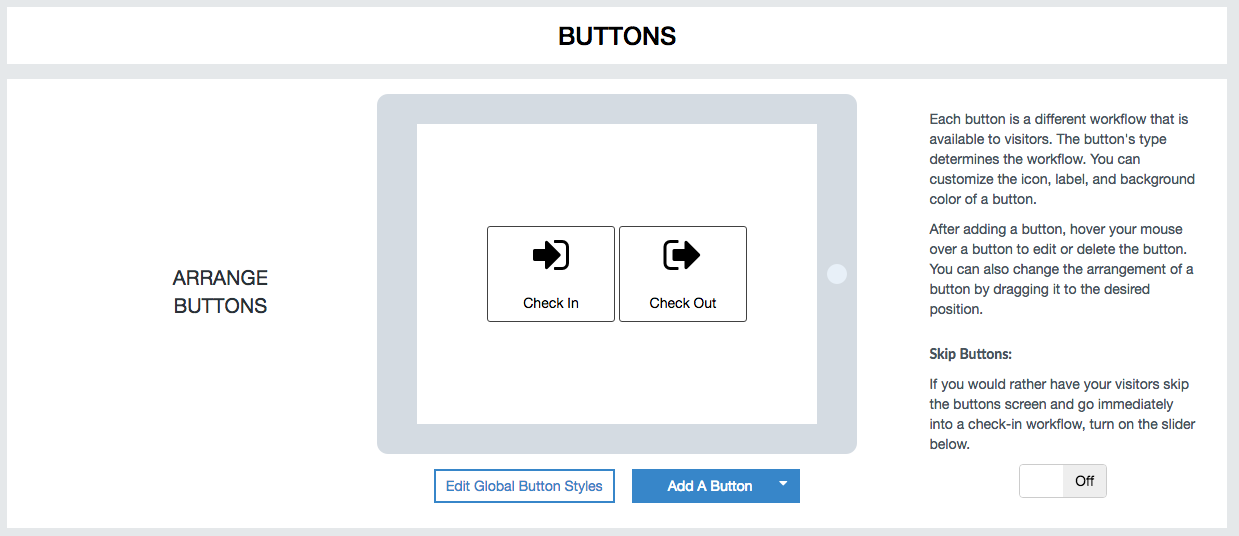 From there, you can customize the appearance of your buttons. For example, you can…
Create round, square or rectangle buttons

Round the corners of square or rectangle buttons or keep them sharp

Thick or thin button borders

Choose button border colors

A new web-based Settings dashboard for easy navigation
To make it simpler for you to configure your Receptionist for iPad settings, we've moved many of them off of the iPad and onto the web. The following settings are now configurable per button on the web. Just add or edit a button to unleash these powerful options.
Sign-In Only
When editing a button, navigate to Select Employee Contact and choose Disable Contact Selection.
Private Contacts
When editing a button, access this option via Additional Settings > Security Features.

Private Check-Out, Two-Way Chat, and Capture Signature
Also in Additional Settings > Security Features. Capture Signature is only available if no NDA is selected.
Two-Way Chat
Also in Additional Settings > Security Features.
Query Citizenship
You can now use a visitor field to verify your visitors' citizenship. Click Add a Visitor Field and select Citizenship Field

Select your country.

Sneak Peek: Pre-Registration and Returning Visitors
Over the next few weeks, we'll also be rolling out two new features that our customers request most: pre-registration and speedy check-in for returning visitors. Check back later this month to get the scoop!
_______________________________
To start using these new features — including pre-registration and returning visitors when they're available — you'll need to update your app. To do so, just go to the Apple App Store and search for "Receptionist." Look for version 3.0.0 or greater. If you have any questions about the new features or need help getting set up, please contact us at 888-315-5230 or [email protected]. We look forward to hearing from you!