The spread of coronavirus (COVID-19) has understandably escalated concerns when it comes to how businesses manage visitors. The virus has made it crucial for workplaces to limit unnecessary person-to-person contact and potential transmission incidents. We've heard from many customers looking to alter the way they check-in, track, and collect information in order to protect visitors and employees from potential exposure to coronavirus.

We understand this new pandemic has added stress to what can already be a chaotic process. We're here to help alleviate the anxiety of not knowing crucial coronavirus-related information about everyone in your building—visitors and employees alike.

With a visitor management app like The Receptionist for iPad, you can alter customizable button-based workflows to quickly make changes to the check-in and visitor tracking process that are immediately reflected on your iPad display.

Customers can make changes to their visitor fields on any check-in button and collect extra information from whoever is entering the workplace, and keep that info stored in the visitor log. Ask them if they have experienced a fever, or have traveled recently to a high-risk area, and store that information in your visitor log. You can also ensure that you ask these questions of your visitors every time they come to your office—whether they've been there before or not. Custom fields at check-out can monitor whether the guest had any person-to-person contact during their visit to your office and help you store that information should you want to track risk factors.

You can also add an agreement to your process that asks a series of questions of your visitors before they can complete the check-in process. Here's a recommended example agreement to ask your visitors if they have experienced any of the common coronavirus symptoms:

"Please read the following statements:
—I am not exhibiting any common flu symptoms i.e fever or cough
—I have not had any person-to-person contact with someone has exhibited coronavirus symptoms in the last 7 days.
—I have not visited an area where there has been a significant outbreak, such as coronavirus or influenza, in the last 7 days."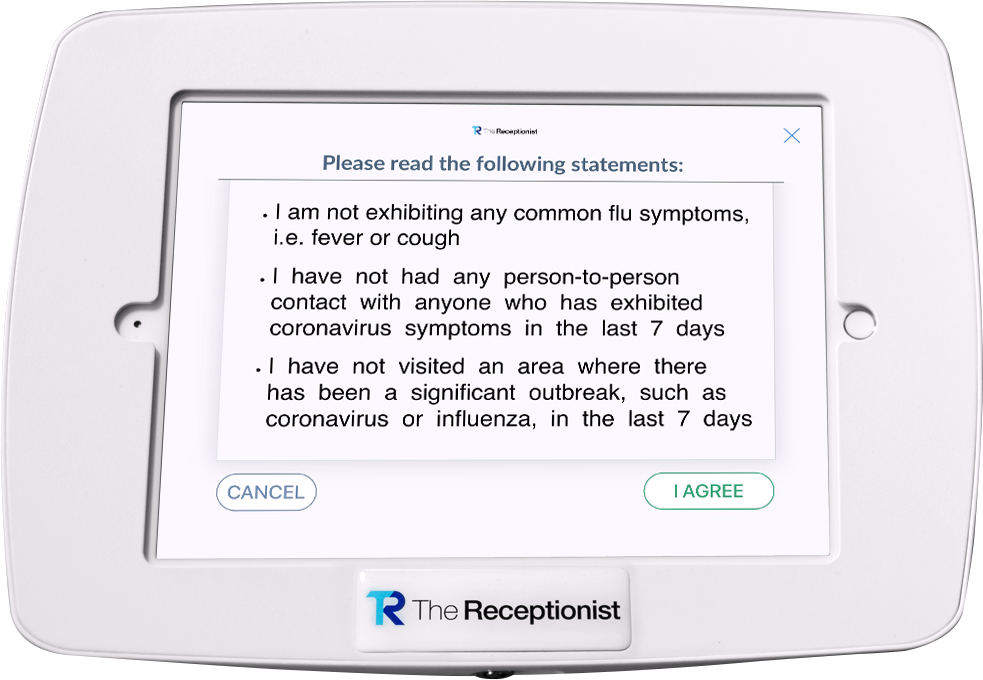 Using our Agreements tool, any "No" or "Cancel" selection to this document will automatically end the check-in process, so you can deny access to anyone who's presenting symptoms and manage the risk of further coronavirus transmissions. If you're concerned about limiting person-to-person contact, you could also add a video to your check-in buttons that your guests are required to watch discouraging handshakes or demonstrating how your office is actively working to mitigate risk with tools like extra cleaning and more hand sanitizer stations.

At The Receptionist, we want to help you ease the anxiety of managing your visitors, and we're working hard to help alleviate any and all new concerns that add to that anxiety. Our Agreements and custom visitor fields are available on all of our pricing plans, so customers can implement additional safety precautions to their check-in process right away. We've also pulled together a video of best practices you can follow to set up The Receptionist to mitigate coronavirus risk.

If you have any further questions about how you can use our visitor management software to help collect information from your guests, or if you need help altering your current setup, chat us using the orange button on the bottom right of our website! We're on standby to help you protect your employees, your visitors, and your business.
P.S. Apple has recently released a thorough guide on best practices for cleaning their products in light of the outbreak. Head on over to learn the recommended ways to keep your iPad and its accessories sanitized and further protect your workplace.

If you'd like to learn more about how visitor management can help bring stability to your evolving office, download our Complete Guide to Visitor Management using the form below: