Even at co-working facilities, where the hustle and bustle of having multiple companies under the same roof adds to the allure, disruptions can be productivity killers.
For Therapy Space, a network of co-working locations specifically serving the behavioral health and wellbeing space, one of the biggest disruptors for both clinicians and guests used to be visitor check-ins.
At the company's first location in Nashville, Tenn., a solid door between the offices and the guest waiting area meant clinicians were constantly opening the door to see if their visitors and patients had arrived for their appointments. A glass pane was installed to try to ease the disruptions, but to no avail. Clinicians continued to open the door to look around corners and walked through the hallways looking for their clients and appointments, and it just wasn't working.
So Therapy Space CEO Marcus Geromes and his team sought out a more technologically savvy solution.
"We went looking for a turn-key app solution that would be easy to implement, would have a really good user experience, and would be affordable," Geromes said.
Some online searching led Geromes and the Therapy Space team to several visitor management systems, and the first system the team decided to try out just happened to be The Receptionist for iPad.
After watching a demonstration of the software, Geromes started a 14-day free trial to test The Receptionist for iPad's capabilities. In short order, he and the Therapy Space team knew they had found the solution to squelch their visitor check-in disruption issues.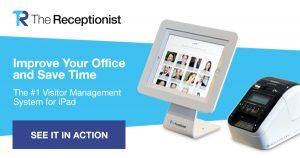 "Once we downloaded it and installed it … it just worked," Geromes said. "It's the only app we ever tried. There wasn't a need to go anywhere else. It's just really easy, it's really intuitive, and I love how fast we receive the notifications that a visitor has checked in."
In fact, the system worked so well right from the start that visitors started using it before the Therapy Space team had a chance to train all of the clinicians on how to instruct their clients to check in.
"We told all our therapists that they may need to give their clients a demo of the system the first time they use it," Geromes said, "and they told us that their clients were already using it, and they didn't need a demo. It has helped things run so much more smoothly."
The Receptionist for iPad worked so well that Geromes installed the system in two other locations in Nashville, as well as another in Dallas, Texas, with plans to add the software to even more locations in the future.
Thanks to the system's Location Management functionality, managing the network of visitor management systems is made simple for Geromes and his staff.
"It lends a certain amount of professionalism when people come in," Geromes said. "It eases their anxiety that their therapist knows they're there. Even when they're a few minutes late. It creates an ease to which we can greet our clients, and it streamlines everything."
Do you want to see how The Receptionist can help your organization? Watch this short demo video, or, start your free 14-day trial today.