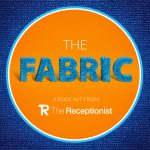 On this episode of The Check-In, we're joined by Tom Foster, Director of Sales, and Michael Ashford, Director of Marketing. They spend a lot of time working together, and this episode takes a look at what happens when sales and marketing teams work together (and what can happen if they don't).
Goals, Support, and Respect
Tom and Michael are working toward the same goals related to number of locations we're serving; how they support and work toward those goals looks different (they do handle very different aspects of the company!), but the focus is the same. We chat quite a bit about the importance of supporting each other and that each departments' success (and challenges) are those of the other department too. Tom has been a part of companies where the sales and marketing teams have not supported each other, and that's not a great environment to work in. While Michael hasn't had the same sorts of experiences, he knows that having both teams work together is imperative to the success of the company.
What if sales and marketing teams don't get along??
We think that if it's not fun, it's not worth doing, but we know not everyone works in an environment like ours. If you're a part of either marketing or sales and teams aren't getting along, we encourage you to get curious about what the other side is up to, spending time in the other department, and collaborating together. Michael reminds marketers to be in service to sales, and Tom reminds the sales teams' job is to nurture the leads marketing brings in. When sales and marketing work together, growth can be exponential!
Resources mentioned:
Learn how we apply the traction model at The Receptionist
Get insight into our hiring process so we have the right team members to begin with
Meet the full Sales Team
Check out The Receptionist for 2 weeks free, no credit card required!