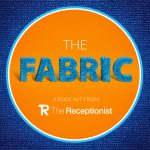 As we transition from sheltering in place due to COVID-19 to the next phase of the world and work, we're joined by Michael Ashford, Director of Marketing and Tom Foster, Director of Sales to discuss The New Normal in the workplace. We chat about what we've been talking about behind the scenes and how we've been supporting our customers through this unpredictable and unprecedented time.
Helping Create Calm
While there is so much we don't know (and can't know), we've been trying to help our customers utilize The Receptionist to give a sense of calm and confidence to their customers and employees. We've been forced to work quickly to address the new needs that people have with a visitor management system, but we've done so in a thoughtful way, sometimes saying "no, we can't do that yet, and possibly not at all."
To support our clients, we've been doing research so we really understand what's happening, helping our clients adjust their check-in processes to provide a check-in process that addresses current needs (like being touchless, using stylus pens, or understanding how to use our system to prep their clients for the new systems that will be in place), and looking at where our product goes from here.
Our values continue to shine through
Throughout this time, we continue to collaborate as a team to help determine next steps, we're looking at ways to be innovative with our product, and we aim to be bold with how we proactively and transparently help people handle their visitor management system needs. As we continue through more changes, and though we're not sure what's to come, we do know that communication will be highly important and we encourage you to communicate with your team, your customers, and to really listen to any and all ideas as we move forward into this new normal.
Resources mentioned
Sometimes you need to have The Turtle Police
Check out The Receptionist for 2 weeks free, no credit card required.