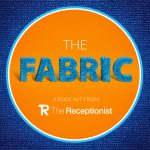 Our CEO, President, and Founder Andy Alsop is back on the podcast again! On this episode, he's reflecting on his evolution as a CEO, starting in 2016 when it was just him, one employee, and a fold-up table, and how he got to the present day: It's six years later, and a lot has changed (but Andy's passion has not!).
There has Always Been Energy, But Where it Goes Has Changed
When Andy took over The Receptionist, he wore a lot of hats: He did all the things, and figured it out as he went. We have always been scrappy and motivated, and in 2016, with a minimum viable product, Andy went to work making things happen that allowed us to remain bootstrapped and grow the product, the team, and the company. While we have grown, so has the energy we have, both individually and collectively.
As our number of locations grew, along with the size of our team, Andy no longer had to wear all of the hats. Once we had all of our department heads in place and they had people on their teams, Andy could really step into the place that he loves: Strategizing about where we want to be and how we'll get there.
Investing in the People
At this point, Andy is really enjoying where we're at and it continues to be clear how important it is to invest in the people who work here. We believe that has an amazing ripple effect that ultimately helps our business and the people we serve. As the CEO of a bootstrapped, later-stage startup, Andy is committed to investing in the team that we have and he is excited about the trajectory that we're on.
Resources mentioned
It's true: We're still a startup
Sometimes you have to pivot
Learn about Traction and its influence on our business
Simon Sinek is inspiring us to evolve
Check out The Receptionist, 2 weeks free, no credit card required