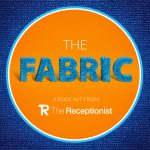 At The Receptionist, it's part of our culture to have fun, and since most of our team members love being outdoors, it was a no-brainer to team up with The Brain Run in 2019 for its inaugural 5K. On this episode of the podcast, we're joined by Kristin Gilchrist, President of The MindShine Foundation and one of the founders of The Brain Run.
Contributing to the Mental Health Solution
Kristin and her family saw people they knew struggling with mental health. They knew that they wanted to be part of the solution. Since they're not professionals in the industry, they wondered how they could contribute. They started The MindShine Foundation and launched their first event in Denver in 2019: The Brain Run, a 5K run to raise money to give to those making a difference in mental health.
They chose to do a run because it's exercise, a social experience, and you get outside: all of which are suggested when supporting mental health. Through their event they wanted to fight stigma and bring awareness to local groups doing important work so they also held an Expo on the day of the run. It was important to the foundation that 100% of the registration fees went to the organizations they supported so they found sponsors for the event- all of this is so impressive for their first year, especially considering that this sort of event-planning and execution wasn't in Kristin's wheelhouse.
The Brain Run and The Receptionist Team Up
Tom Foster, our Director of Sales, reached out to Kristin to find out how we could get involved. For us, it was a no brainer to team up on an event like this and we were so happy to sponsor the photos for the day. We loved participating in the run as a team and look forward to the 2020 event and beyond.
Resources mentioned
Learn more about the 2020 Brain Run
Need a visitor management system? We have two weeks free!