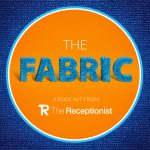 At The Receptionist, we feel fortunate to work with so many great customers. Marcus Geromes, one of the founders of Therapy Space is one of them. He joined us on the podcast to share about his unique coworking space and how The Receptionist helps where they need it.
When Coworking Meets Mental Health Professionals
Marcus Germoes is a licensed Marriage and Family Therapist and when he began his career, he knew he wanted to go into private practice in Nashville, TN. However, he also knew that there were barriers to getting his own space set up (such as the financial investment and not needing a dedicated space full-time right away). He and colleague Dr. Noah Zapf saw a need for a new kind of coworking space that would meet the needs of mental and behavioral health professionals and other practicing clinicians.
Creating a space that works for Therapy Space clients (and their clients)
Therapy Space needs to make sense for the clients (the practitioners), but also the clients that these professionals see. Marcus and Noah worked to create locations that have clean, calm, inviting rooms for individual and group therapy, and that maintain confidentiality for the clients- this is a distinct difference between Therapy Space and traditional coworking spaces.
New practitioners and veteran practitioners find Therapy Space appealing because of the flexibility with the amount of time you can rent space, the ease of paying one bill (instead of many when you have your own, full-time office), and the sense of community that is created. Many practitioners end up working in isolation, but with Therapy Space, there is the ability to have referrals in the office and to be supported by fellow professionals.
In addition to making sure the environment meets everyone's needs, Marcus knew they needed a way to check in the clients coming to see the practitioners. The Receptionist provides just what they need: a secure, professional, and welcoming way to start off the client's visit. Marcus, his clients, and their clients all find The Receptionist to be very user-friendly, no matter someone's age or experience with technology. He also points out how it helps to ease anxiety because clients know that they're checked in and that their practitioner knows they've arrived.
We're so glad to have Marcus on the podcast and to learn more about how they're using The Receptionist at Therapy Space.
Resources mentioned