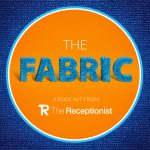 On this episode of The FABRIC podcast, we're joined by our leadership team: Andy Alsop, President, CEO, and Founder of The Receptionist, Jessica Marshall, Director of Customer Experience and Co-Founder, and DeLynn Berry, Director of Engineering and co-founder.
Though March feels like it was both minutes ago and years ago, 2020 is (finally) coming to an end. Our co-founders spend this episode reflecting on their feelings, experiences, and thoughts about 2020, and discussing what we think is to come for 2021.
Focusing on What We Can Control
Creating goals and working on them is always on our mind. As we wrap up any year, we reflect on goals and plan for the next year. However, during the pandemic, we realized that we need to focus only on what we can control when it comes to the goals we set. We also shifted the time frames that we set goals–our timelines for the goals we work on have become much shorter than what we have done before.
Let's go, 2021
We are so thankful that even though this was a challenging year, we helped a lot of customers, our team is doing well, and we saw growth in the company. What more can you ask for in this type of year?
And now, we're looking forward to 2021. We don't know exactly what growth we'll see in our team or the number of locations we will have, but we are excited for what's to come. We hope you have a happy and healthy New Year!
Resources Mentioned
Our founder, Andy Alsop's thoughts on the pandemic (from November, 2020)
Check out our chat on adjusting to meet our customer needs
What we thought our team would look like in 2021 (back in November 2019)
Learn about our fractional CFO firm
Check out The Receptionist, 2 weeks free, no credit card required