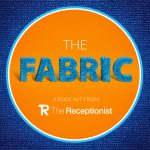 We're joined again by President and CEO of The Receptionist, Andy Alsop. On this episode, we talk all about predictable revenue: what it is, where the company is now, how our team works together on this journey, and what will happen when we reach that goal.
We're striving for predictable revenue
Andy is in the car a lot as he travels between his home in Santa Fe, New Mexico and The Receptionist in Denver, Colorado. That leaves a lot of time for audio books, which provide a lot of inspiration for what happens here at The Receptionist.
The concept of predictable revenue comes from Aaron Ross' book of the same name. To Andy, it means for every $1 spent in sales and marketing, $3 of annual recurring revenue will occur. We're not there yet, but we're on our way.
Our team works together
At The Receptionist, we aim to work as a well-oiled machine, which is why it's imperative to have the right people in place in every role and every department. When it comes to predictable revenue, sales and marketing need to work hand-in-hand, and they definitely do here. Our strategies in both arms of the company have evolved, and we're deliberate with where we put our time and energy to help us reach predictable revenue. We're also willing to ditch strategies when they don't work, which is important for any startup.
Though we're not where we want to be (yet) when it comes to predictable revenue, we're on our way. We encourage any startup to be patient and deliberate on their journey to predictable revenue, no matter what your goals are when you get there. When we hit a point of predictable revenue? Well, we'll have a machine that we can ride into the sunrise!
Resources mentioned
Don't forget to try us free for two weeks (no credit card required)