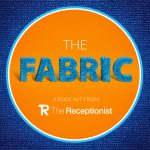 On this episode of the FABRIC Podcast we're joined by our Director of Marketing, Michael Ashford. It's been a while since he's been on and we've made some adjustments in our marketing efforts since early 2020. We had to pivot. Michael shares with us what we did, what we learned, and how this has all continued to be in line with our values.
Pivot!
In early 2020, we had a broad marketing strategy; we had a message and we shared it with companies in a variety of industries. But, then in March, 2020 as the world changed, we did too. We used data to inform our marketing efforts and narrowed in on the essential businesses that were still open. We worked to adjust our messaging and aim to always serve our customers well to keep all of their employees and visitors safe.
Don't rush, but keep moving forward
While many companies took their foot off the pedal, we continued on, but thoughtfully, and with ongoing communication and collaboration. When it comes to marketing, our team will continue to move forward, aiming to bring more of our customers' voices and images to what we share because we are so thankful that they trust us with their visitor management system needs.
Resources mentioned
Check out our recent conversation about race and diversity with Dr. Ajita Robinson
Here's our chat about the "new normal" in the workplace
Scott and DeLynn discuss developing contactless check-in
Michael and Kayla talk marketing and the Storybrand approach
Do you need help slowing down? You might need turtle police
Check out The Receptionist for 2 weeks free, no credit card required