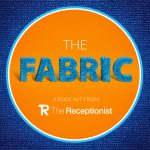 As we near the end of 2020 at the time of recording this episode, we've had a lot of time during the pandemic to help our customers keep their employees safe at work. As more businesses are starting to return to work, we chat about what we've learned and our thoughts about returning to work safely.
Don't Forget the Humans!
We're joined by Michael Ashford, Director of Marketing, and Tom Foster, Director of Sales who share what they've learned as we have helped companies stay at work and return to work, safely. Into 2021, more businesses are getting back into the office, and the idea of keeping our distance is still front and center. We discuss why technology is only one piece of the puzzle to returning to work safely- we don't want you to forget how humans should be involved, and we share some of the times where you don't want technology replacing things that people should do.
We Want to Get Back to Work
At the start of the pandemic, many of us liked working remotely and we thought there would be a big shift in how (and where) people work. But now, we want to get back to work and to be more connected with our teammates again. Michael and Tom share some of the scenarios that we're helping people work through and the best practices we're seeing companies implement in order to help employees stay safe as we all work to get back some normalcy and return to work.
Resources Mentioned
Here's how we've helped U.S. Truck Driver Training School
Check out The Receptionist, 2 weeks free, no credit card required