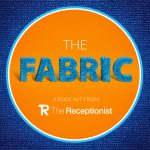 The Receptionist is growing and we have recently hired four new team members! We've never hired this many people so close together, but this is only the start as we continue to grow through 2020 and into 2021. In this episode, we're joined by Sarah Reimer, People Operations Coordinator, Alex Sassano, Customer Experience Representative, Andee Thompson, Business Development Representative, and James Jordan, Creative Manager.
Walking and talking FABRIC
Though it's new for us to grow so quickly, our recent hires don't know anything different. All 4 new team members enjoyed coming into the company around the same time, and they share what their experience was like in the hiring process when it came to learning about our company culture. Like our other hires before them, this group could tell that we're passionate about our values, and when they were hired, they knew we weren't just talking the talk. We love and live FABRIC.
Enjoying their time at The Receptionist
Each of our team members share what they've been up to in their roles and what they're looking forward to. We also get them to spill some secret talents and hobbies that we didn't know yet. Wondering which of our newest hires loves scary movies and who would be able to pirouette from one office to the next? Listen to the episode to find out!
Resources mentioned