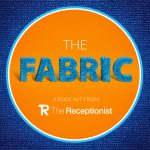 Over the last few years, we have grown our business and our team. Though we've worked with CFOshare, a Fractional CFO firm, we were ready to add in an Accounts Receivable Specialist to handle everything billing. Eduardo Campos joins us on the episode to talk about what it's been like to originate a new position at The Receptionist.
Culture Unlike Anything He Thought Existed
If you've spent any time listening to the podcast, you know we take our company culture seriously (meaning, it's critical to who we are and how we function, but we're not all buttoned up and serious about it—fun is one of our core values, after all!). Eduardo shares with us about what it was like to learn about and experience our company culture, and how that allowed him to feel comfortable taking on a brand new role.
Collaboration with CFOshare
Eduardo has been able to learn from CFOshare, collaborate with them, and be supported by their team. All of this, along with the supportive nature of our team has allowed him to make this job his own. He talks about how they've worked together and what he enjoys about having CFOshare as a partner, and what it's been like to be the first one taking on a role of this kind.
Resources mentioned
Learn more about CFOshare
Check out the episode on our Just Cause
Check us out two weeks free, no credit card required