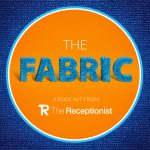 At The Receptionist, we want you to know about who we are- it's important that we share more about the people behind the product.
On this third Meet the Team episode, we have our last group of team members: Michael Ashford, Director of Marketing, Hanna Morris, Customer Experience Representative, and our newest hire, Kayleigh Channing, Business Development Representative. We talk about business and life outside the office and as on previous episodes, you'll hear some similarities in some of the responses.
Lots of Laughs Happened in the Making of this Episode
As always, we have fun when we work together. Though Michael and Hannah work in different areas of the business and Kayleigh had been with the company for just a month (as of the time of recording this episode), you can hear the rapport that they have. In fact, we had a few ideas for some fun activities and traditions we might want to start!
All members of our team work well together, no matter what their area of focus is- we cheer each other on, collaborate respectfully, and look forward to what's to come for the company.
Resources mentioned:
As usual, we talk about our company culture
Meet Sales Team
Meet the Leadership Team
Check out The Receptionist for 2 weeks free, no credit card required!