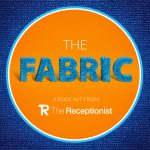 On The Check-In we like to give you a window into who we are and how we work. On this episode, we're getting personal with the first of our episodes where you get to meet our team members and learn more about us personally and professionally. We're joined by the Leadership Team: President & CEO Andy Alsop, Director of Customer Experience Jessica Marshall and Director of Engineering, DeLynn Berry. All are co-founders of The Receptionist.
The leadership team fills us in
Andy, Jessica, and DeLynn are employees 1, 2, and 3 and they worked together to not only get the company going, but wok to keep it growing. We talk about what originally drew them to working for the company and without surprise, their reasons are pretty similar. They each share their proudest moments, including trademarking Radical Support® and growing the team and product to where it is and we get to hear about the predictions for growth for the next year and beyond.
We also get personal and learn about some funny moments the team has had (don't worry, no one was too embarrassed in the making of this episode) and top secret skills they possess. This episode allows you to get to know our leadership team in a new way and see why they enjoy working together at The Receptionist.
Podcast episodes mentioned:
Learn more about our company culture
Get more insight into how we hire
We chatted about effective team building and celebrating the holidays
Check us out two weeks free, no credit card required