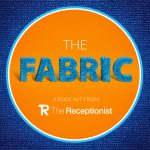 On this episode of The FABRIC Podcast we're covering an important topic: onboarding. To discuss this critical part of a new hire's experience, we're joined by our newest hire, Courie Henning, Business Development Representative, who started at The Receptionist just four days before we headed home due to the pandemic. We're also joined by Alex Sassano, Customer Experience Representative, who started working at The Receptionist in January, 2020.
How to Onboard Well Remotely
We have always been a semi-remote team, but onboarding in person is important to us. We want our team members to understand their role, the tech and tools they need, and also to feel like members of our team. That changes a bit when your new hire has to head home due to a pandemic, and can be a challenge when your team is always remote. Alex and Courie share about their onboarding experiences.
Tips for employers and employees for remote onboarding
We discuss the importance of communication and checking in, no matter whether you're the employer or the employee in the onboarding situation. While we have regular team activities, events, and volunteering opportunities when we're in the office, we've made sure that's continued remotely during the pandemic for the benefit of all members of our team but especially our newer hires. Our values of FABRIC are clear from day 1 for our new hires and they show up naturally in the onboarding process; we encourage you to remember the team aspect of the onboarding experience, especially when onboarding employees remotely.
Resources mentioned
How we have fun as a remote team
Check out The Receptionist 2 weeks free (no credit card required)