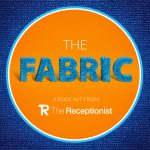 Looking for a new job is exciting and can also be a bit overwhelming—you're not always sure what to expect throughout the hiring process. On this episode of the podcast we're joined by three of our recent hires: Alex Sassano, Customer Experience Representative, Andee Thompson, Business Development Representative, and James Jordan, Creative Manager. They talk with us about the hiring process they went through on their path to working at The Receptionist and give great tips for how to nail any job hunt.
Our hiring process is extensive, and for good reason
Andee, Alex, and James share about the steps of the process they went through: the initial online screening questions and the first phone call with Scalability Solutions (who help us find and hire great candidates), to the bigger pieces of the process like a job simulation experience and video and in-person interviews. All these steps give insight not only into the skills the candidate has, but also their values and how they'd fit in with our team.
Our hiring process has a number of pieces because not only do we want to learn about the candidate, but we want to make sure the candidate learns about us and is excited to join our team. Though this can be a lengthy process, Alex, James, and Andee all enjoyed the experience and when they got to the end they were even more clear that The Receptionist is where they want to be.
Being authentic in your hiring process
Whether or not you're looking to be hired at our company, we encourage you to be authentic as you go through your job hunt—not only will your potential employers see who you are and what it would be like to work with you, but you'll be hired knowing that they were excited about you.
Resources mentioned
We're growing- check out our careers page
Learn more about how Scalability Solutions can improve your hiring experience
Check us out 2 weeks free, no credit card required