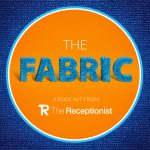 On the newly revamped FABRIC podcast, we're focusing in on company culture. But– we don't just want to share about our culture and what it means to us, so we're bringing in others who are just as passionate about company culture as we are. On this episode of the podcast, we're joined by Nick Bradley from The Fielding Group; they are a business growth accelerator, helping people who are good at business but not good at scaling. And as part of their work, they focus on the critical area of company culture.
The Fielding Group is Clear on their Culture
Nick and The Fielding Group practice what they preach when it comes to company culture and aim to create a team who buy into the values of the company, including the value of velocity. They know that the world is changing- your company culture can't be built around a place, but rather needs to be core ideas and values that drive your business.
Helping Companies Scale and Create/Maintain Company Culture
Nick shares about some of the companies he's worked with: big and small, and how company culture is addressed as companies scale. No matter what the size of your company and how you aim to grow, he shares that leaders can ask themselves one question: Are you clear on your vision? That answer becomes the north star that informs everything else; you can't create your culture without your vision.
Resources mentioned
Learn more about The Fielding Group
Check out the Scale Up Your Business Podcast
We've got a two week free trial for The Receptionist