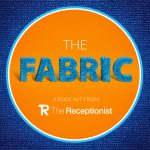 If you know anything about us, you know that we are a very collaborative bunch. In fact- it's the C in our FABRIC! On this episode of the podcast, we're joined by DeLynn Berry, Director of Engineering and Tom Foster, Director of Sales who share about how their departments work together and why they've seen these teams butt heads in other companies.
Where things can go wrong…
Product development and sales are both critical areas of a business. It seems logical that when they work together, great things can happen. However- it's easy for things to go sideways. That may happen because of lack of communication, giving demands to the other team, or missing a critical component of a healthy working relationship: respect.
How we do it
Sales and engineering work well together here. Whether it's regular communication between Tom and DeLynn, our product board that helps keep everyone on the same page about the features our customers are looking for, or our battle card of upcoming features, we aim to uphold FABRIC in how these teams work together.
If your sales and engineering teams are feeling a bit distant or are running into issues, we encourage you to get into the room together, meeting more frequently, and having understanding and empathy for the other side of this critical relationship. When you do, you might be amazed by what happens!
Resources mentioned