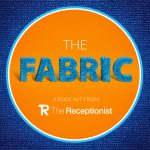 On this episode of The Check-In, we're joined by Michael Ashford, Director of Marketing, and Jessica Marshall, Director of Customer Experience and Co-Founder of The Receptionist. We're chatting marketing strategies, and our approach to that may not be what you'd expect from a company.
It All Comes Back to Radical Support®
Our core values at The Receptionist drive everything that we do. And we mean everything. We want our customers to be obscenely happy with us and our product- that's been true even before we trademarked the term Radical Support® to describe our high-level of customer service and support.
We know that it takes a very happy customer to talk about their experience, so it's great that our very happy customers are willing to share about us on sites like G2 Crowd and Capterra. Though we do leverage these reviews to help with marketing, as well as Net Promoter Score and Customer Experience Scores, we love when we hear authentic stories from our customers and can use these to highlight the customer and the product. Since we're all very involved in the customer support experience, we get to know our customers and can address their needs, concerns, and questions. Our goal is to provide Radical Support® because that's who we are, not because it helps with marketing efforts. The marketing that we're able to do because of our happy customers is a bonus.
Be authentic in your marketing efforts
A word you'll hear throughout this episode is authentic (and it's related term, authenticity). Not only is this concept a part of our culture of FABRIC, but it's also something we encourage you to be: in your interactions with customers, your marketing efforts, and even in your day-to-day. As Michael says, "it takes $0 to be authentically human."
Resources mentioned:
Learn more about our culture
Wondering about Radical Support®? Here's why we trademarked it.
Check us out on G2 Crowd and Capterra
Customer requests are also a part of Radical Support®
Check out this podcast episode where Michael talks marketing at a bootstrapped startup
Don't forget your 2-week free trial, no CC required!