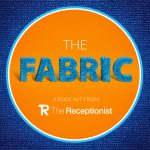 Fun is one of our core values- it's the "F" in FABRIC. As a semi-remote team, seeing each other in the office every other week, we have many opportunities to interact and have fun with one another. At the time of recording, however, we're fully remote as we all physically distance ourselves during the COVID-19 pandemic, but the fun has not been lost. We're joined by Hannah Morris, Customer Experience Representative and Sarah Reimer, People Operations Coordinator to chat about having fun as a remote team.
Keeping Spirits High
Fun is always important, but especially right now. We're making sure that we enjoy each other's company and we've found new, fun ways to do that. Whether it's virtual lunches and happy hours, sharing baby pictures and guessing who they belong to, or having team members lead workouts and craft nights, we're finding ways to stay connected with each other and have fun while we're apart. We're also making sure to keep checking in with our customers and helping them have fun where we can, even when it's just throwing a fun gif into our customer support chat.
When We Get Back Together…
We don't know when we'll be back in the office but we sure are looking forward to it! We're also really excited to be able to continue with our Culture Club's efforts to give back to our local community and in-person get-togethers. But for now, we're going to continue to use technology and our team's talents to have fun as a remote team.
Resources mentioned
Learn about the Culture Club
We can't wait for the next Brain Run
Check us out for two weeks free, no credit card required!