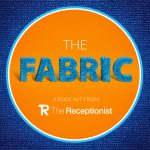 On this episode of The FABRIC Podcast, we're joined by Dr. Ajita Robinson, a therapist with clinical expertise in grief and trauma. She is the Founder and Clinical Director of Friends in Transition Counseling and is also one of our happy customers. In addition to her private practice work, she is an educator, speaker, and author.
She joins us on the episode, along with our Founder, President, and CEO, Andy Alsop, to discuss the important topic of how to have Courageous Conversations about race and diversity in the workplace. We appreciate her taking the time to help us learn more about how we can do better when it comes to diversity.
Diversity isn't just to check a box
Aiming for diversity in the workplace is not just about checking a box; adding diverse employees and supporting them needs to happen in an authentic way. Dr. Robinson shares the concept of implicit biases and how these beliefs we all carry can influence us in the workplace and influence how we hire and treat employees.
She also gives great insight into how to recruit and retain more diverse hires including considering where and how you market and how to create an environment where your hires will want to stay.
Having courageous conversations
Courageous conversations, like the ones we have on this show, are the conversations that may be tough to have, but are so necessary in life and the workplace. Dr. Robinson discusses with us why these conversations are so important, where our discomfort may come from, and how to work through that so that we can have these courageous conversations that lead to meaningful change. Thank you to Dr. Robinson for having this conversation with us.
Resources mentioned
Learn about Dr. Robinson's Therapy Work
Check out Dr. Robinson's additional areas of expertise
Check out The Receptionist 2 weeks free, no credit card required