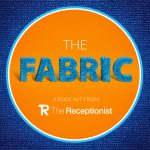 We've all been there: staff meetings that suck! A terrible meeting can suck the life out of the room and destroy an employee's motivation. On this episode of The Check-In we're joined by Jessica Marshall, Director of Customer Experience and DeLynn Berry, Director of Engineering who share about how The Receptionist makes sure their team meetings Do. Not. Suck.
Why are meetings so horrible?
Jess and DeLynn chat with us about why people tend to dread meetings and that can happen when someone starts wondering, "Why am I here?" If people feel like the meeting isn't a good use of time, if ideas aren't heard, and if no action steps are taken after the fact, then people will start to resent having to come to the meetings. Jess and DeLynn also bring up an important point of safety in meetings: team members need to feel that your meetings are a place where they can share ideas and feedback without disrespect or punishment.
What is The Receptionist doing at staff meetings?
At The Receptionist, we live by the core values of FABRIC (Fun, Authentic, Bold, Respectful, Innovative, Collaborative) and these values remain true in our meetings too. Here are a few things we do so that we're in line with our values as well as making the most of everyone's time (you'll hear more in the episode).
We have an agenda for each meeting- this is created ahead of time and published so everyone knows what to expect. This way people are coming to the meeting prepared and can help make sure we stay on topic
Everyone helps to keep the meeting on track. At any point, anyone in the meeting can note that we've gone off on a tangent, or that we're already sold on an idea but are still discussing it. By noticing this and bringing it to the attention of the team, we can move on
We keep most meetings an hour or less. Our quarterly meetings are closer to three hours, but on a regular basis, we aim to be efficient with everyone's time
Tech goes away: no phones and laptops- we're present and focused
We enjoy our time together. Though we try not to get off topic, we still laugh, joke, and have a good time at our team meetings. The people in the room matter
You may be in the land of sucky meetings, but you can make immediate changes that have noticeable results. We encourage you to give some of these ideas a try and notice the effects in the meeting and beyond.
Resources mentioned
Learn more about our company culture
Your Free 14-day trial of The Receptionist (No credit card required!)