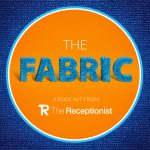 For a startup, having a CFO (Chief Financial Officer) can be hugely important. Your company may not need a CFO right away, but when the time comes to have someone manage your budget, projections, and more, you might want to outsource. President and CEO of The Receptionist, Andy Alsop, is back on the podcast to talk about how we hired our CFO sharpshooters and how we know when to bring them off the bench.
The Role of the CFO at the Receptionist
When Andy started with The Receptionist, he had enough financial background to cover what the company needed. But, as we grew, he realized that he needed a more detail-oriented plan and someone to oversee that. Through his network, he found an individual to help: a fractional CFO.
A fractional CFO is a person who typically works with multiple companies in the CFO role: these companies don't need or can't afford a full-time CFO, so a fractional CFO can be the perfect fit.
Though this met our needs for a while, we realized that we needed more depth from our CFO in order to help with our long-term strategic financial planning and budget process. After much research and interviewing, we brought on CFOShare, a Fractional CFO Firm. Now, we have a team of people behind us who can help with our financial needs (and beyond!). Andy shares about the types of situations that have come up where we don't have the answer, but we have a team of people we can turn to who help us find the answers we need. This depth has, and will continue to help us meet and exceed our goals.
Hiring your CFO (Fractional or Full-Time)
The CFO is in charge of finances as they relate to your company: budgeting, forecasting, and projections, but your CFO may also be a resource for other needs that you have. Because this person, or firm, will be very connected to you and your company, it's important to take your time hiring the CFO. We always encourage you not to rush through the hiring process for any member of your team so that you get the right person or firm, in place.
Though you can hire a remote individual or company, we like that CFOShare is not far from us and we can meet in person as needed. The timing and needs of every startup will vary, but don't overlook the idea of a CFO because of the full-time cost; a fractional CFO or fractional CFO firm, like CFOShare, may be just what your company needs.
Resources mentioned
Learn more about our hiring process
Check out CFOShare
Need a Visitor Management System? You can get 2 weeks free, no CC required!