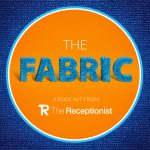 2020 has been quite a year! On this episode of the podcast, we're joined by a couple team members we haven't seen in a while: Director of Sales, Tom Foster and Enterprise Account Executive Quinn Walsh. They share about our enterprise sales growth over the last year, what we've experienced and learned, and where we're going in the future.
Experiencing Growth and Change
Focusing on enterprise sales has always been a part of the 2020 plan, and when COVID hit, we were in a unique opportunity to further to support the essential businesses we worked with and to grow into other industries who needed to support their customers and employees through a check-in system.
We always rely on feedback from our customers to determine their wants and needs and possible features updates for The Receptionist, and 2020 has been no different. As we focused more on enterprise sales, we also looked at elements like creating a solid rollout plan and an internal playbook for our team so that launching The Receptionist is a smooth process for the customers and for our team.
It's All About the Relationship
Enterprise sales is about the relationship and not the transaction. We discuss how building trust, having radical support, and being authentic are core values to our process. Tom and Quinn give their insight into the selling process and their roles for anyone who handles enterprise accounts or is thinking of heading in that direction.
Resources Mentioned
More details on how we've handled COVID as a company
Check out how we've adjusted to meet customer needs in 2020
We have a 2-week free trial, no credit card required!