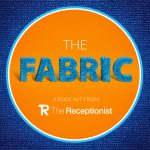 A heads-up to listeners, we're going to do something a little different for this episode and share one of our Featured Business stories. These are short, narrative pieces where our customers talk about their business journeys and discuss how The Receptionist for iPad has helped level-up their visitor experience and operational efficiency.
In this episode, we feature Kelly Elise Ulmer, owner of Bloom Counseling and Nutrition in Fort Collins, Colo.
You can find more Featured Business stories at thereceptionist.com/featuredbusiness. Enjoy the show!