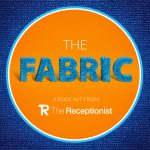 Over the past couple of years, companies have shifted between fully in-person, fully remote, and hybrid work models. As conditions in the world continue to evolve, many companies are now getting up to speed on what a long-term hybrid work arrangement ought to include. On this episode, Michael Ashford returns to the podcast to talk about the hybrid work model we use at The Receptionist.
A Successful Track Record with Hybrid Work
Here at The Receptionist, hybrid work is part of our identity. Pre-COVID, we adopted a hybrid model and have learned a lot from our experiences of working together through this pandemic. We are sharing those lessons in a new, free guide, and we'll be discussing them on today's podcast.
Our Approach to Hybrid Work
We built our hybrid work model around flexibility and intentionality. Our free-flowing approach to work allows employers to alternate between one week in the office and one week out of the office. Within that framework, we have other systems in place to accommodate individual needs, gather valuable feedback, and make sure our whole team is included.
Resources
Check out our free hybrid work guide.
Here's a previous podcast episode about how to excel at remote work.