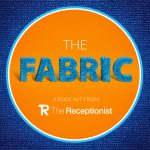 https://thereceptionist.wistia.com/medias/g661vjk3j0
We've been bolder than usual lately, but being bold is part of our core values, so it makes sense, right?! On this episode of the podcast, we're joined by Director of Sales, Tom Foster, who talks about what it's like to be on the sales team when your company becomes focused on being an Infinite-Game minded company.
Shifting From Standard Metrics and Measures
Typically, in sales, there are goals; numbers and metrics that team members need to hit. Pay and bonuses are often wrapped into these numbers and this seems to be the norm for sales departments. It can seem like these number-based goals are important to growth, but that's all based on a Finite-Game minded approach, and while traditional, can lead to stress and stagnation.
When you look at things with an Infinite Game-Minded approach, where you're aiming to perpetuate the game, and where Your Why and Just Cause drive your efforts, those standard metrics no longer make sense. Our sales team is now being given the flexibility to adjust what they're focusing on. And, don't get us wrong, growth and profit are still important, but how we get there and what we focus on are changing.
There was Apprehension…
When Tom followed up with the sales team after our founder Andy Alsop made the announcement to the team about our Just Cause, there was apprehension (from Tom too), because this is a bold way to approach sales. But as Tom shares, we have trusting teams and a willingness to be vulnerable and authentic that is helping us find our way (even though we don't have all the answers about how you become more Infinite-Game minded as a company and a sales team).
Resources mentioned
Want to know about our Bold Just Cause?
We <3 Simon Sinek
Check us out for 2 weeks free, no credit card required.