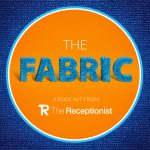 On this episode of the podcast, we're back with President, Co-Founder, and CEO, Andy Alsop. We talk about perks and employee benefits, and how it's important to offer a minimum of benefits so that employees can care for themselves and their families. But also, when it comes to the perks, we share how we make sure to keep all of that in line with our values and culture.
Aligning candidates (and the perks you give them) with your values
Andy shares what the benefits looked like back in 2015 for our initial co-founders and how those early team members were looking to be a part of something they could invest themselves in and help to grow. Even at that point, health benefits were the bare minimum.
As the business has grown, The Receptionist has added more perks and benefits, reinforcing how much we appreciate, respect, and support our team members. Andy also talks about some of our perks, like our unlimited PTO policy. That could sound scary to some business owners, but this policy has never been abused because we hire individuals who are aligned with our core values and who want to be at work. We respect our employees and they respect the company and are excited to be here.
When you're bootstrapping
As a bootstrapped startup, we know about the importance of creating and sticking to a budget. However, benefits need to be considered and included as you budget, from the beginning. We encourage you to think outside the box about perks that don't cost a lot of money. We give you a few ideas on the podcast and Andy shares the benefits and perks that our employees have loved.
Resources mentioned
Check out all our benefits
Dig deeper into our values of FABRIC
Learn more about how we handle the holidays
Traction and EOS helped us hone in on our values
Learn how Scalability Solutions helps us hire great team members
Want to know what we're hiring for?
If you're looking to check out The Receptionist, we offer a two-week free trial, no credit card required