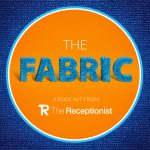 Core values are something we feel so strongly about. In fact, you probably hear us mention them in just about every podcast we do. On this episode, we have Jessica Marshall, Co-Founder and Director of Customer Experience sharing more about our values: FABRIC.
How FABRIC Came to Be
FABRIC is an acronym for our core values: Fun, Authentic, Bold, Respectful, Innovative, and Collaborative. The conversation about our values began in 2015 not long after Andy Alsop, President and CEO took over the company. Though FABRIC was not firmed up until 2017, the initial ideas were very similar to what we have now.
Having these values clearly defined allows us to speak a common language in the office, allows everyone to row in the same direction, and gives us focus as we work together to serve our customers.
What FABRIC Really Means
On the episode, we talk more about each letter in FABRIC and discuss how that shows itself within our work (and play!):
Fun – To delight customers through outstanding service. Have fun every day. Be adventurous, creative, and open-minded.
Authentic – Build open, truthful, and honest relationships.
Bold – Don't be afraid to fail. Learn from our mistakes.
Respectful – Always treat customers and one another like we would expect to be treated. Be mindful of one another's time.
Innovative – Pursue growth and learning. Embrace and drive change.
Collaborative – To appreciate the strength each team member brings to the table, to leverage those strengths as a team. Assume positive intent, always.
When it comes to figuring out your core values, we encourage companies to start soon (and early, if you're a startup), and to give yourself time to really land on something meaningful that can become part of the common language and culture of your company.
Resources mentioned:
Meet the Leadership Team
Learn about EOS and Traction
Check out our hiring process