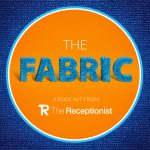 On this episode, we're joined once again by Michael Ashford, our director of marketing, to hear his thoughts on what we have learned from this project of recording 100 episodes over the past four years. We also take some time to anticipate where we go from here.
What We've Learned
Our vision for this podcast has completely shifted since its inception. When we started, it was called The Check-In and focused more on brand awareness and strategy. However, through the conversational nature of podcasting we were drawn more and more to the fabric of our company. What were our core values? What was our just cause? When we rebranded as The Fabric Podcast, we were able to dive into those issues even more, and this helped us become a much more employee-centered company.
Where We're Going
We're making a lot of changes to our podcast, but our core mission remains the same. Our first 100 episodes have been produced and hosted by our friends at Audience Ops, but we feel it's time to bring the production of the podcast in house. Now that we have more options to be back in person, we wanted to make these conversations more internal to our company as we continue to live out our values around our just cause and employee supremacy.
Resources
Learn more about our friends at Audience Ops
Michael and the team at The Receptionist