A few weeks ago, we launched The Receptionist for iPad version 3.0. (Missed the announcement? Check it out here). But today is the BIG announcement! Today, we're rolling out two huge new features to make your visitors' check-in even more efficient: pre-registration of upcoming visitors and fast-track check-in for returning visitors. To update your app, go to the Apple App Store and search for "Receptionist," version 3.0.0 or greater. Here are the details:
Pre-register visitors for hassle-free check-in
Do you know who's coming to your office today? Perhaps you're expecting some job candidates or a group of clients you want to be sure to impress. Now you can make sure their check-in process goes smoothly by loading their info into your Receptionist for iPad in advance. Then, all your guests have to do is enter their email address and the other standard information (e.g., name, company) will be automatically populated. Your visitors will even receive an email notifying them of their upcoming visit.
Simply follow these steps to pre-register your visitors
Start on your Buttons page to the left of your account dashboard. Hover over and click to edit the button you would like to enable pre-registration for. Scroll down to Select Employee Contacts and turn on Pre-Register Visitors. Don't forget to save your button settings!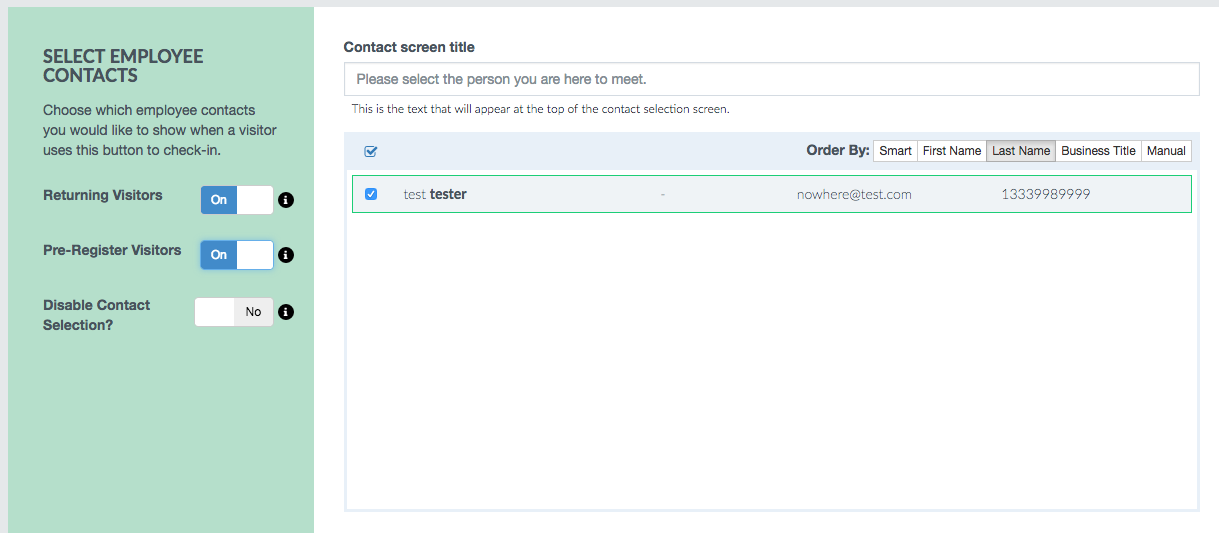 Now, navigate to your Visitor Log. This is where your contact's check-in information will be held until their arrival. In the Visitor Log, you see an option to Register a Visitor in the top left corner.

If you enabled visitor pre-registration on more than one button, you'll first select which button you want to save this visitor under.

Then you'll be asked to enter any standard fields required for that button, such as name, email, and company. Any custom fields will be left for the visitor to complete. Your pre-registration is then saved in your visitor log, waiting for your visitor to check in!
When a visitor arrives and enters an email address that matches one that you pre-registered, they'll be asked to confirm or edit their information.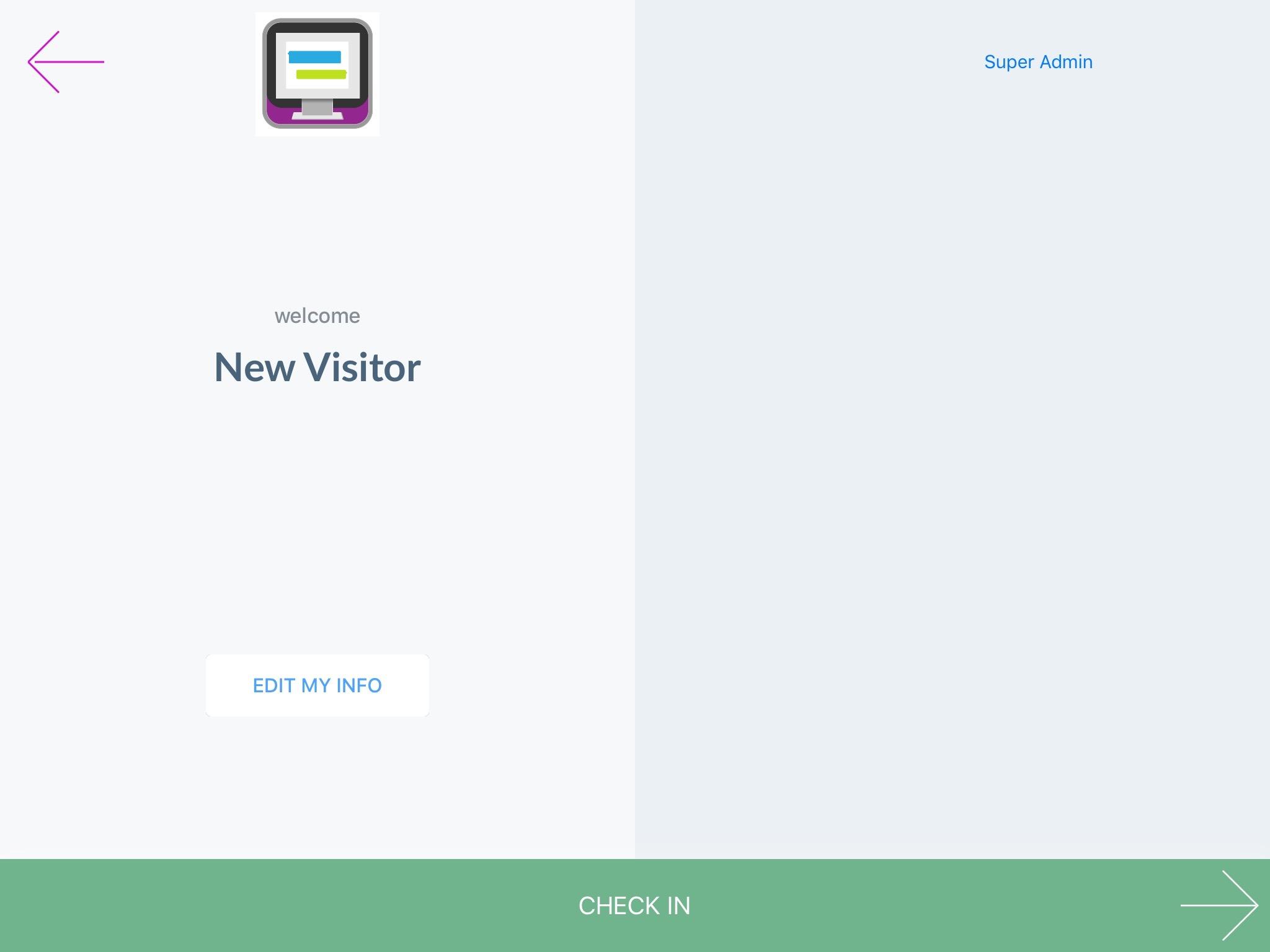 The rest of the check-in process continues as usual. It's as simple as that! Want your employees to register their own visitors? Add them as users to your account, and they'll be able to log their own visitors without administrative assistance.
Returning visitor recognition to fast-track frequent guests
How often do you have repeat visitors? Maybe you host a weekly Meetup, meet once a month with a specific client, or have a contractor that comes to your multiple times per month. Now, your Receptionist for iPad will recognize returning visitors and put them on the fast-track for check-in. When visitors return, all they have to do is enter their email address, and the Receptionist for iPad will automatically populate the rest of the information. They'll also have the option to update their information if necessary.
Here's how to enable returning visitor recognition
Like nearly all of our features, this will be configured per button. Start on the Buttons page. Hover over and click to edit the button for which you'd like to enable returning visitor recognition. Scroll down to Select Employee Contacts and turn on Returning Visitors. Be sure to save your button! Returning visitors will be recognized by their email address. Once you turn on this feature, any new frequent visitor to your office will be flagged once their first check-in is complete.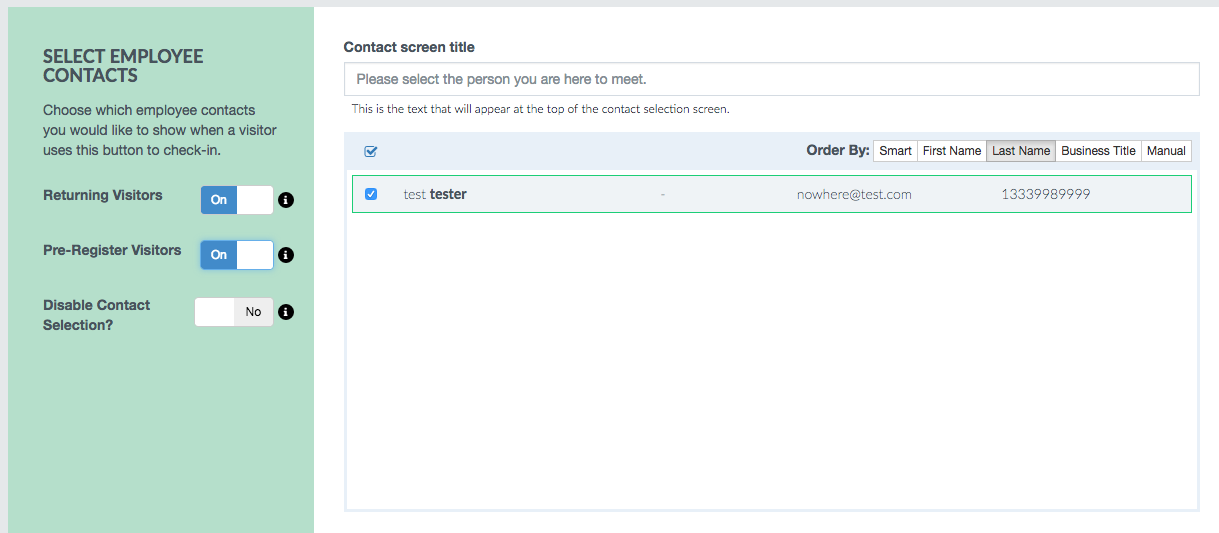 If you haven't updated your app to Version 3.0 yet, you'll need to do so before you can start using these new features. Click here for instructions. If you have any questions about the new features or need help getting set up, please contact us at 888-315-5230 or [email protected]. We look forward to hearing from you!