Opening a new office is never an easy undertaking. Doing so during a global pandemic presents even more obstacles. Before Modern PURAIR, a full-service indoor air quality company, could open its new headquarters in Kelowna, British Columbia, the company required an efficient and safe check-in process for its visitors. While ensuring guest and employee safety, that process also needed to reflect the business's commitment to providing cutting-edge technology to customers. 
Lane Martin, Modern PURAIR's Co-Founder, also recognized that the new office space, which takes up an entire floor, needed a flexible solution that could accommodate visitor check-ins for other companies that would be subleasing space on the floor. As a security measure, visitors can only access a single waiting area once they exit the elevator, and a key fob is required to enter any other areas. To maintain security and avoid mix-ups, Martin needed a system that could notify each company when visitors arrived.
Martin had a vision for what a check-in process would look like in the new entryway, but because he hadn't used a visitor management system before, he wasn't sure where to start. So he turned to the time-honored Google Search to see if he could find a platform aligned with his needs. 
The Receptionist for iPad caught Martin's eye first: as an avid Apple user, he appreciated The Receptionist's native iPad capabilities. The software's intuitive interface and ease of use sealed the deal. 
"[The Receptionist] was really easy to set up," Martin said, "I think I did it all from my house in one day."
The admin dashboard made it simple to add other tenants in the building as separate check-in buttons, with their own unique contacts that visitors could select when they arrived. Because the new office space was under construction, Martin needed to configure The Receptionist for iPad remotely. He could log in to the admin portal from any web-enabled device (like his phone or laptop) and easily customize the system for opening day without actually being on-site.
"I loved that everything was in the cloud," Martin said. "I could make any changes I needed to, like adding delivery services or new contacts, without actually needing to be physically next to the iPad."
Just like the setup process, check-in at the new Modern PURAIR office couldn't be more effortless. A sleek iPad stand now greets visitors as they leave the elevator and enter the space's foyer. Guests choose the button for one of the businesses on the floor, including PUR Kids, a foundation set up by Modern PURAIR to help low-income children and families during crisis. Check-in includes answering a few basic questions and selecting the employee the guest is there to see.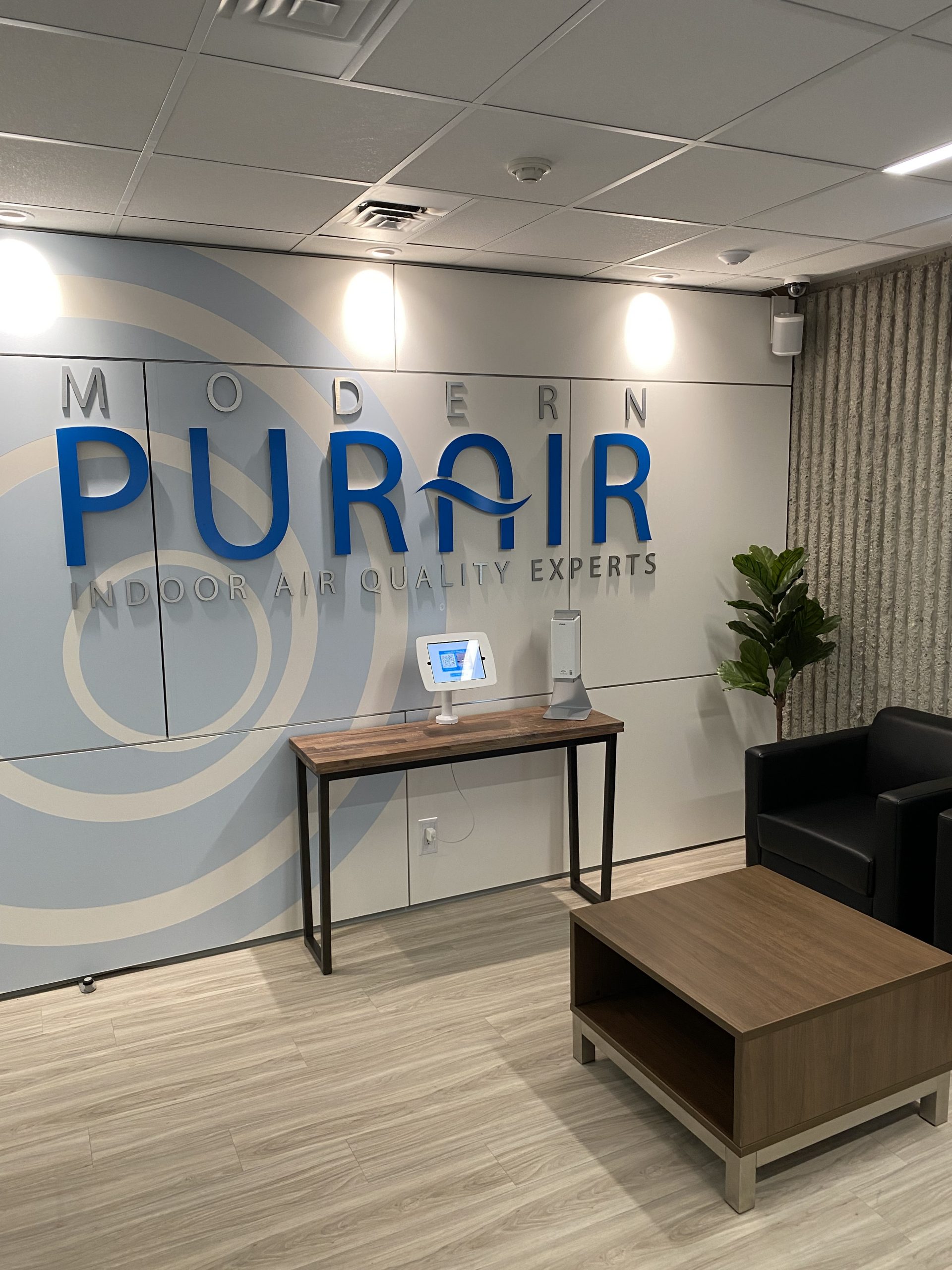 Once they've completed their check-in, the system notifies their host that they've arrived while they relax in the foyer. Windows to the hallway ease uncertainty, allowing guests to see when their host is approaching. Meanwhile, the guest's check-in info is stored in a secure visit log and updated with the time they check out, which helps Modern PURAIR stay in line with COVID-19-related contact tracing recommendations.
Modern PURAIR's reputation has been built on cutting-edge innovation and dedicated customer service, and it was key that the visitor experience reflects those values. The Receptionist for iPad helps create the quick and seamless check-in that Martin envisioned for the new headquarters. 
"In this industry, businesses, and brands run off of technology," Lane commented. "[The Receptionist] aligns with what we are, who we are, and our brand. Our visitors now come in and see the beautiful new lobby area and are immediately impressed."
Whether it is a franchise partner visiting the headquarters for a discovery day or a vendor's introduction to the new office space, the foyer and iPad are a key factor in a visitor's first impression. And because the business' visitors often share the same self-employed and entrepreneurial values as Modern PURAIR, they also experience similar pain points. When they see how a visitor management system like The Receptionist can help bring stability to a company's front office and create a seamless visitor experience, they're sold too.
"People will ask me, "Where do you get that because I need one of these for my office," Martin recalls. "I've already referred three or four other companies."
Interested in implementing The Receptionist for iPad at your business? Try us out for free for 14 days—no credit card required!
Learn more about Modern PURAIR here. You can also read about their foundation, PUR KIDS, which receives 1% of all system sales from Modern PURAIR.