One of the most frequent requests from potential users and customers alike has been delivered, as we are excited to announce the new native integration between The Receptionist for iPad and Microsoft Teams!
We're excited to provide our customers with this new integration and make it even easier for them to track and be notified of visitors' arrivals using the tools they already use daily.
Activate the Microsoft Teams and The Receptionist integration
Users can now activate the integration between Teams and our visitor management software by heading to the 'Integrations' section on the sidebar of their admin portal. The new Microsoft Teams integration option will appear on this page, where the user can select the option to 'Add' the integration to their account.

After users choose to add the Teams integration, our system will direct them to a Microsoft authorization page to confirm they want to connect The Receptionist with their Teams instance. Please note that an administrator of your Microsoft organization will need to sign in and click the Accept button on this page—if you are trying to login into an account without admin privileges on the consent page, you won't be able to turn the integration on!
For more on setting up the new Microsoft Teams and The Receptionist integration, see our support article here
Sync Teams Employees with The Receptionist and Set Up Notifications
Once you've got the new integration up and running, The Receptionist will sync any contacts you have in your admin portal with matching employees in your Microsoft organization by using their email addresses. The initial sync shouldn't take more than 10 minutes, and we'll continue to sync any new contacts added to The Receptionist with Teams users—making everything hands-off for you!
The integration then installs a Teams Notification Bot to ensure that your employees can receive their visitor and delivery notifications directly on their Teams dashboards. Now, once a visitor checks in or a package arrives for an employee, they will get a Teams notification via banner and in-feed. The notification card will include a link to see full details on the visitor, including any check-in information you collect from guests using The Receptionist like visit type, citizenship, signed legal agreements, or visitor pictures.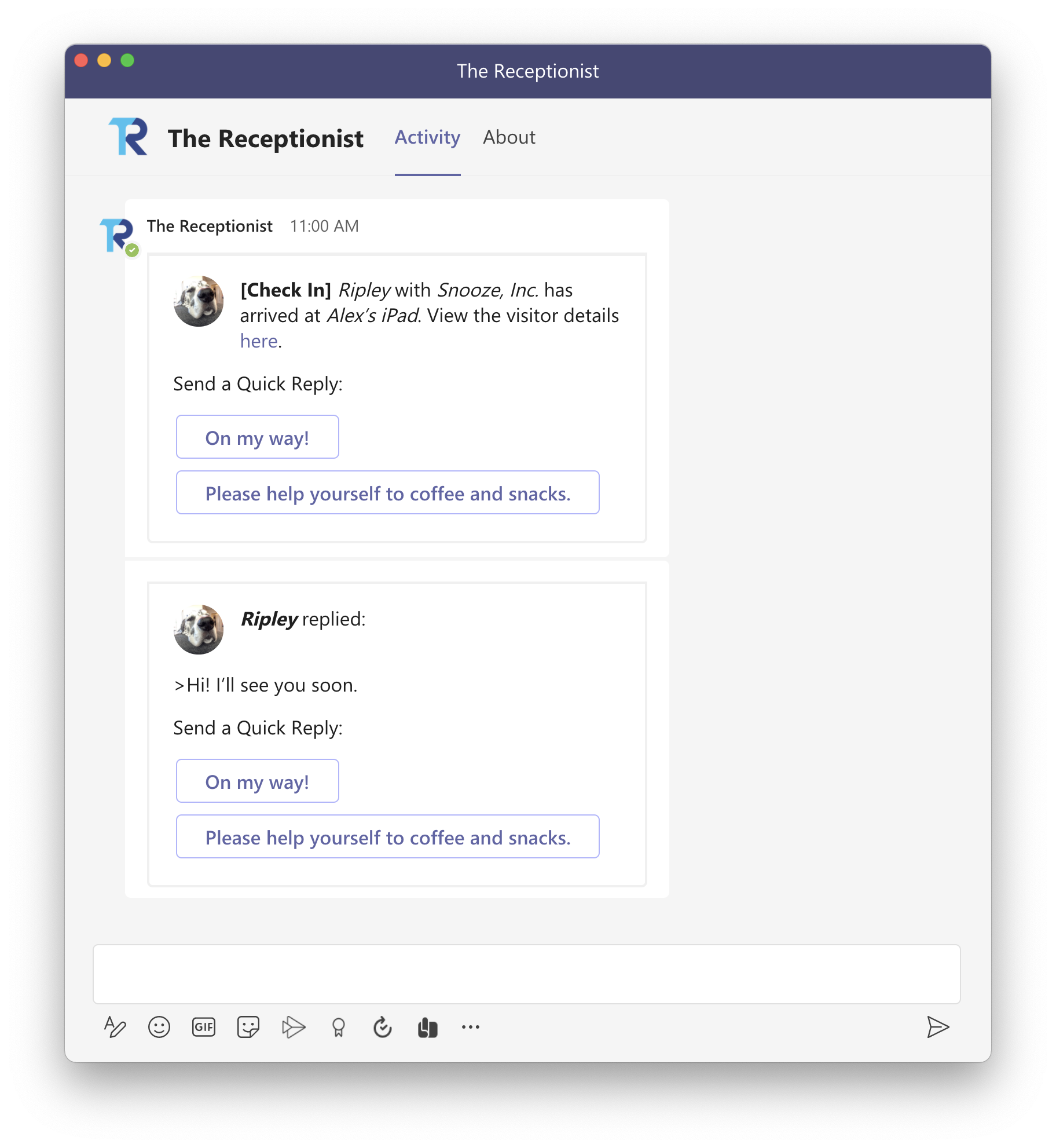 Here's what a visit notification, along with Quick Reply options, from The Receptionist bot would look like in your Teams dashboard
Quickly Communicate with Guests via Teams
Get your guests where they need to go more efficiently and save crucial time in your day by taking advantage of The Receptionist's Quick Replies feature, which is also available in the new Teams integration! If you have chat enabled for visits and Quick Replies active in your Receptionist system, you can send those messages to any visitors directly from the Teams feed. It's now easier than ever to communicate with your guests and let them know you're on the way, or you might be running a few minutes late, right from the software you already use to connect with the rest of your organization!
Learn more about setting up Quick Replies on your Receptionist account here
Have Questions? Reach Out!
Questions about this latest feature release? Head over to our Microsoft Teams FAQ page to see if we've already got the answer for you.
If you can't find the answer you're looking for, or you're running into issues with set up on your account, don't hesitate to reach out to us! You can chat with us anytime using our live chat feature on the orange button at the bottom of our website or your admin site. Whether you want to talk about Microsoft Teams, other new features you'd like to see, or just send us your favorite dog GIF, we'll be there.
If you're not yet a customer—perhaps you've been waiting until our visitor management software could fully integrate with Teams—and want to test out the nifty new feature at your company to see what visit notifications would look like , start a free 14-day trial here and see for yourself. There's no credit card required!