When electronics manufacturer MVinix moved to a new, larger location, company leaders faced a question: Can we rethink how we manage visitors at the front desk?
A full-time receptionist had managed the front desk at the company's previous location, but the facility move also prompted a new role for that person.
MVinix didn't take in a high volume of visitors each day, but when a visitor did arrive — usually with component parts and hardware for electronics development projects — the MVinix team wanted immediate notification.
"When we moved, we realized we didn't need a person there [at the front desk] all the time," said Gene Nguyen, Director of Business Development and Marketing. "We wanted something that would provide the attentiveness that we needed without having to hire a person to sit there all day."
Positive customer reviews point to The Receptionist for iPad
Initially, the team considered a virtual assistant or receptionist. However, as Nguyen started searching, he came across several visitor management systems, including The Receptionist for iPad.
As he explored further, The Receptionist for iPad stood out to Nguyen for several reasons.
"We read a lot of reviews and compared features," Nguyen said. "Usability and UI were the most important things. We wanted it to be simple for us to use, but also for the visitors. We wanted something where no instruction was needed to know how to use it — that you could easily navigate it and that it would notify us in real-time when we had a visitor.
"We chose The Receptionist for iPad based on the number of positive customer reviews we read and the fact that it looked intuitive and easy to learn."
Visitor check-ins are now "seamless"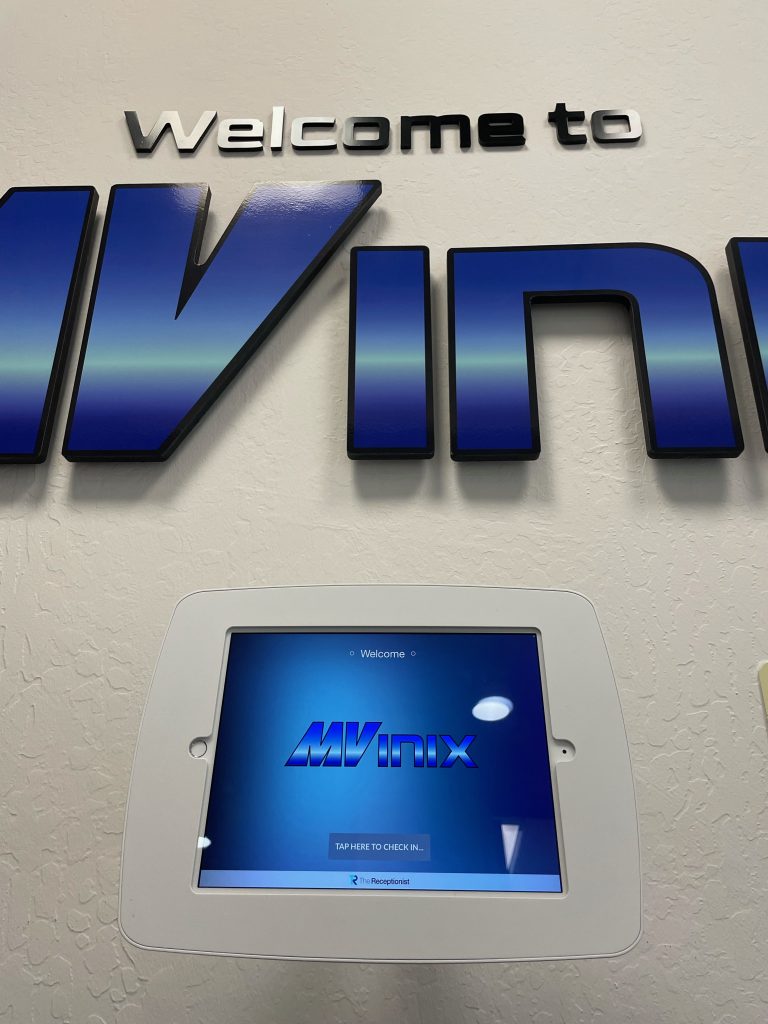 The Receptionist for iPad is the first thing a visitor sees when they walk into the front office at MVinix's new location. The visitor management software is used for check-ins, deliveries, will-call orders, and electronics kit dropoffs.
All of the doors past the office's waiting area are access-controlled for security purposes. Because of that, The Receptionist for iPad's two-way communication capabilities have particularly come in handy for the MVinix team.
"We like the ability to communicate with the visitor right there versus having to go out there and see who has arrived," Nguyen said.
With a new location and a new visitor management system to match, the MVinix team is thrilled to have found a solution to fit the company's growing needs.
"It's exactly what we hoped for," he said. "We're completely happy with The Receptionist. It's been seamless. It was easy to learn and it hasn't failed us once. It's highly reliable. That's what we wanted — to set it up and leave it alone to do its thing, and it's done exactly that."
Are you interested in implementing The Receptionist for iPad at your workplace? Try us out for free for 14 days—no credit card required!