We want to be clear; mental health awareness is important year-round. But as we enter Mental Health Awareness Month, there is even more opportunity to make an impact. 
By joining in on the conversations this May about mental health and wellness, you show your support for those who struggle. It's possible you yourself may struggle. No matter the circumstance, advocating for mental health awareness and resources ultimately chips away at the stigma and helps to disintegrate the barriers to treatment and healing.
Mental Health Is The New Wealth
What was once deemed an invisible illness has come barging into stark visibility, particularly in recent years. At the forefront of modern culture and conversation is the discussion around mental health and wellness. And for good reason. 

According to NAMI, 20% of U.S. adults experience mental illness, while 5% experience serious mental illness at any given time. 
What's more, almost half of all Americans will meet the criteria for a diagnosable mental health condition at some point in their lifetime. This leaves the very likely possibility that everyone, whether directly or indirectly, will have to confront a mental health hurdle.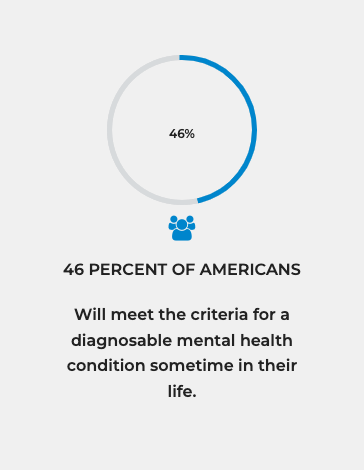 With the prevalence of mental health conditions, prioritizing its importance and increasing awareness has become a necessity. 
Below are some easy ways to get involved and make your impact on Mental Health Awareness Month: 
Thank Your Therapist:

Or, any therapist for that matter! Give your support at the most grassroots level by showing appreciation to anyone working and supporting the mental health and wellness of others. 

Support An Organization:

Organizations like the

National Alliance on Mental Health

(NAMI) and

ActiveMinds

offer resources, support and education to those struggling with mental health. Making monetary contributions or volunteering at a local organization with a similar mission is another great way to make an impact on the community close to home. 

Educate Yourself:

Educating yourself about mental health can help you better understand it and support those who are struggling. You can read books, attend workshops, or even take online courses.

Practice Self-Care:

You can't take care of others if you don't first take care of yourself. Practicing self-care looks different for everyone. Meditation, exercise, and therapy work for many but your self-care activities might look like creating a new habit, accomplishing a goal or learning a new skill. 

Share Resources:

Spreading the word about support groups, books, hotlines and even your own experience with mental health makes a huge impact. 

Advocate For Change:

You can advocate for change by contacting your elected representatives and advocating for policies that support mental health, such as increased funding for mental health services or better insurance coverage for mental health treatment.

Make Art:

Yes, you heard me. Make art. Art can be a powerful way to express emotions and raise awareness about mental health. You can create art that reflects your experiences with mental health and share it with others to inspire creativity and expression.

Practice Kindness And Inclusion:

This is quite possibly the easiest and most impactful way to make a difference. You never know who is struggling. And by practicing kindness and making sure those around you know you are someone they are safe to go to for support, you are serving the purpose of mental health awareness. Through your actions, you also inspire others to do the same.  
Mental Health Resources