Using technology to mitigate the pitfalls and inefficiencies of the logistics marketplace is the speciality of third-party logistics company Freight Hub.
The company prides itself on applying its proprietary automation and data tools to help companies ship and store goods and materials more effectively than ever.
However, in late 2018, one area the Freight Hub team wanted to improve on was the way they managed visitors to their own facilities.
So the Freight Hub team made the decision to implement a visitor management system at their offices to help check in and track visitors. Initially, company officials set out to develop a custom system using their own in-house development team.
At the same time, said Marketing Specialist Juana Jones, the Freight Hub team also reviewed several digital visitor check-in systems, including The Receptionist for iPad.
After watching a product demo and reviewing all of the customizable features of The Receptionist for iPad, the Freight Hub team made the decision to implement the cloud-based system.
"Why create something from the ground up when there's a solution out there like The Receptionist that can meet our needs?" Jones said. "We found that we were able to customize everything and get very granular with what we needed it to do. All of the customization that we're able to do with The Receptionist allows us to sort of have a white-label approach and make the system truly ours."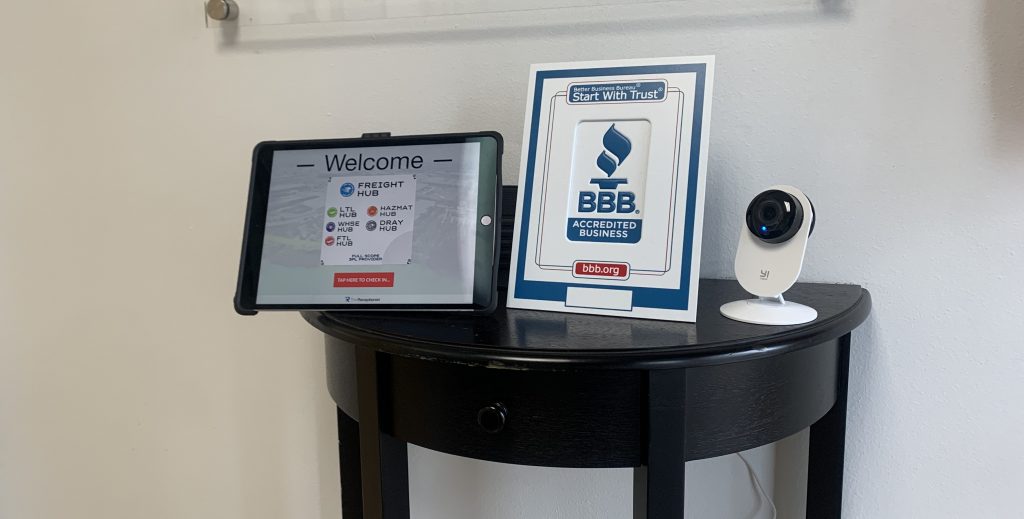 The results have been exactly what the company sought. With the system now managed by Freight Hub's HR Manager and Office Manager, guests check in quickly and employees are notified right away of a visitor's arrival, ensuring an efficient and smooth check-in experience.
Jones said The Receptionist for iPad is now seen as a natural extension of the company's mission.
"One of the biggest things our company loves is transparency and automation, and The Receptionist complements that for our team," Jones said. "It just looks more official, it's cleaner, and it's a much more organized approach to checking in visitors for our needs."
Do you want to see how The Receptionist can help your organization? Sign up for a Sneak Peek webinar, or, start your free 14-day trial today.