Any kind of office redesign can be an inconvenience, but a lobby redesign comes with a particular set of headaches.
Because the lobby is where many first impressions of your company are made, having your visitors and potential employees walk through an unfinished lobby can be a bad look. Plus, the lobby is one area that every employee walks through every day (not to mention often being the permanent site of at least one of your employees' desks), so extensive renovations can affect the way each of your employees feels about your office.
However, there comes a point in each office building's life where a lobby redesign — or at least a lobby refresh — becomes necessary. The COVID-19 era might actually make for a more convenient time than most to rethink your front office's design and aesthetic.
Here are some reasons why you might want to redesign your lobby area as the world struggles to overcome the COVID-19 pandemic:
Changes in visitor spacing needs – People won't likely be comfortable sitting right next to strangers anytime in the near future — long after the 6-feet rule has become less urgent. Spacing out visitor seating can be a good way to increase both the safety and the comfort of your office visitors.
Changes in visitor traffic – The threat of contagious disease has made many of us seriously rethink in-person visits of any kind, and the COVID-19 pandemic gave many employees the push they needed to embrace virtual meeting technology to replace live meetings. Many businesses are finding that they can use the space that used to be allotted for visitor seating in the lobby in other, more useful ways.
New access requirements for employees – In many offices, the pandemic has caused employees to transition to more flexible schedules, only coming into the office when truly necessary, or coming in at odd hours so their shifts don't overlap as much as they used to. These erratic hours may require office managers to rethink how the building is secured each night and unlocked each morning, and possibly make access control and safety changes that may affect the lobby design.
If, like many office managers and owners, you want to take advantage of this time when foot traffic will be super light to redesign your front office, here's what you need to keep in mind.
Best practices for branding in the office lobby
Don't redesign your lobby unless you have a strong sense of the feelings you want the space to evoke. To understand what feelings you want the space to evoke generally requires a clear understanding of your organization's brand.
Designing an on-brand lobby doesn't mean plastering your logo everywhere or only using colors from the approved brand guide for the walls and furniture. It means creating a space that adheres to the organizational values that build the foundation of your organization's "personality."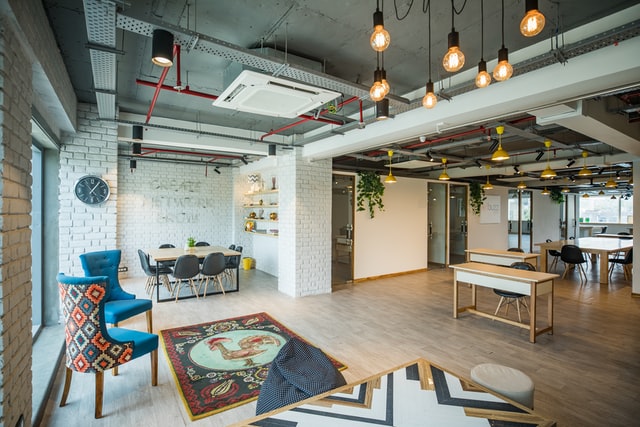 For example, at The Receptionist, our company values are "fun, authentic, bold, respectful, innovative, and collaborative." For us, working out of dedicated offices in a hip coworking space in the city is the perfect fit for those values. The decor is fun and bold, and working out of a lively shared space shows that we value both collaboration and innovation.
If one of your organizational values is "professionalism," you might opt for darker colors and traditional furniture. If one of your values is "creativity," you may choose to display modern art or invest in furniture that surprises each visitor who sees it. If one of your values is "friendly," you may opt for more comfortable furniture and homier touches in the decor.
Regardless of your organization's brand, develop a strong grasp on that brand if you want to avoid sending conflicting messages about your priorities.
Best practices for security in the office lobby
If you're redesigning your office lobby, it's a good time to reassess how to optimize its potential for protecting your employees and your assets from criminals and corporate spies.
Visibility and surveillance – When your front desk staff can see clearly who is coming and going, they may become aware of potential threats earlier — and potential criminals won't have anywhere to hide from their eyes or from the building's surveillance system. You may want to change the orientation of your desk and your office furniture and decor to maximize lines of sight.
Clear perimeters – There should be no confusion about whether or not visitors can wander past the semi-public area of the lobby into the private interior of the office. You can use the reception desk, partitions, planters, furniture, or even construct walls to make it clear where the semi-public area ends.
Panic alarm buttons – As we wrote on our post on recognizing suspicious behavior in the office lobby, panic buttons can be hardwired to the phone system, and can be programmed to contact building security or emergency officials. An office lobby redesign may be the perfect time to install this additional safety tool.
Access / updated locks – If you're considering upgrading your building's access control system, such as to a system that allows users to use their personal smartphones to unlock the doors, this might be a good time to do so, since access systems often have to be hard-wired to a power source.
Best practices for safety in the office lobby
A big part of safety is wrapped up in office security. By preventing threats of violence, you help protect everyone on site. Clarifying where visitors are allowed to go may prevent potential accidents and injuries that could happen when visitors wander into an unsecured area (such as in the case of a manufacturer or engineering firm).
Other safety risks in the lobby are less dramatic. Namely, visitors may slip on wet floors as visitors track water in on rainy days. Or, visitors may catch nasty viruses when they touch the same shared surfaces that dozens of other people have just touched.
To address slippery floors, consider integrating umbrella storage and absorbent entryway mats into your design.
For better sanitation, you can upgrade your doors to be hands-free, choose furniture that's easy to clean and disinfect regularly, and invest in semi-permanent sanitization stations for visitors to clean their hands regularly.
Best practices for staffing and use of space in the office lobby
We've already mentioned that the front desk staff can play a crucial role in greeting visitors and maintaining security. But for some cases, moving the front desk out of the lobby completely may be a good lobby design option.
A lobby area without a large reception desk may help fulfil social distancing requirements and use space in more helpful ways. Plus, receptionists and administrators may actually appreciate the chance to do their work elsewhere with fewer interruptions from visitors.
Receptionists and administrators may appreciate the chance to do their work with fewer interruptions from visitors.
Click To Tweet
Instead of checking in with a person, visitors can check in remotely using a visitor check-in app like The Receptionist for iPad. The Receptionist app can contact the appropriate employee as soon as a visitor checks in.
To try The Receptionist for yourself, click here to request a personalized demo.