What do people say about your business online? If you don't know, it's time to find out. Your online reputation can either win or cost you business. This is because even if you're not paying attention to online reviews about your business, your prospective customers are. A single tweet from a disgruntled customer can mean more to a prospective customer than the extensive marketing campaign that you've spent thousands of dollars to create. This is why you must proactively manage your online reputation.
In this post, we're sharing our top tips for how to manage your business's online reputation. Let's get started.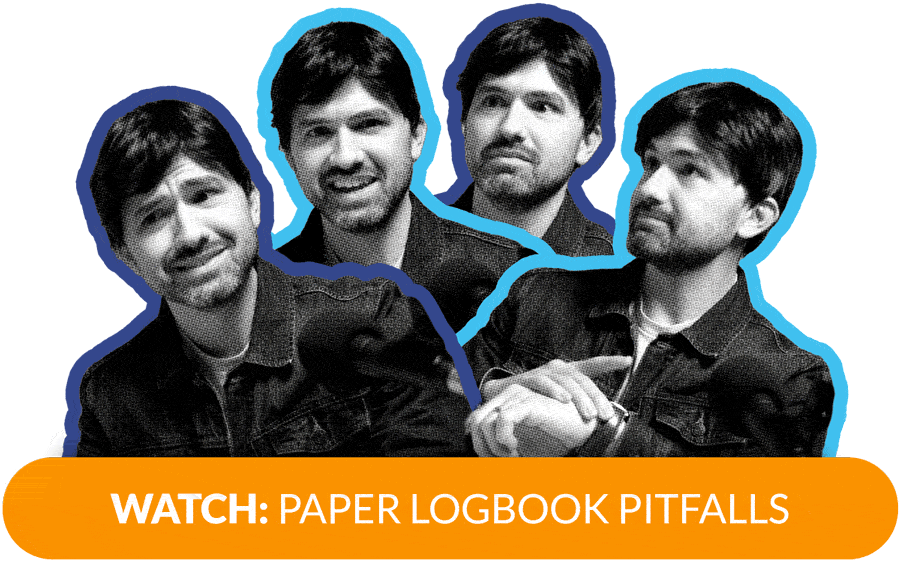 What is Online Reputation Management?
Online reputation management refers to all of the actions that you take to monitor, manage, and influence the public perception of your business.
Online reputation management has become an essential practice for every type of business. Even if your business dealings are mostly local and offline, your prospective customers are online and they're actively using online resources to search for solutions to their problems.
That's how the majority of your customers will stumble across your business.
A quick Google search will lead prospective customers to your business (if you have an online presence), but it will also lead them to your business's online reviews. And while they may rely on your marketing content to determine what you sell and if you have the solution that they're after, your prospective customers will also use review sites to determine whether they should go with your business or choose your competitor instead.
You've heard of the power of word-of-mouth referrals to generate new business?
Consider this: Review sites and social media platforms act as online word-of-mouth engines. Consumers use these platforms to voice their opinions and seek the recommendations of others before deciding to do business with an organization.
And this is true for any organization, from a behavioral health practice to a law firm to a coworking space. If your business can be found on Google, it's highly likely that you have an online reputation.
But if you don't actively monitor and manage your reputation, you could be losing business. Your prospective customers may come across negative reviews of your organization, and that may be enough to sway them against doing business with you.
However, if you manage your business's reputation, you can mitigate negative reviews by responding to them publicly, and creating an action plan to correct problems internally. You can also build trust with your customers — both current and prospective. If you're managing your reputation online and encounter a negative response from a customer, you can reach out to them which shows that you care about their experience.
Overall, there are no downsides to online reputation management. You'll only gain benefits from this practice. So, let's discuss the steps you need to take to get this right.
1. Discover What People Are Saying About Your Business
Before creating an elaborate reputation management strategy, the very first step is to find out what people are saying about your business. You need to understand their current perception of your brand so that you take the necessary steps to improve your reputation.
This step is easy enough. You start by simply googling your business's name. What sites pop up on the search results page? Aside from your page, which is hopefully near the top, are there other pages, such as review sites or even competition comparison pages in the search results? Click on these pages to find out what people are saying about you.
Next, return to Google and look for your Google Business Profile. This is Google's listing of your business, and it shows up in Google search and Google Maps.
For example, if you looked up "Ward 4 Milwaukee," the main website for the co-working space shows up in the search results, but over to the right is the company's Google Business Profile. It shows interior and exterior photos, a map, and reviews for the business.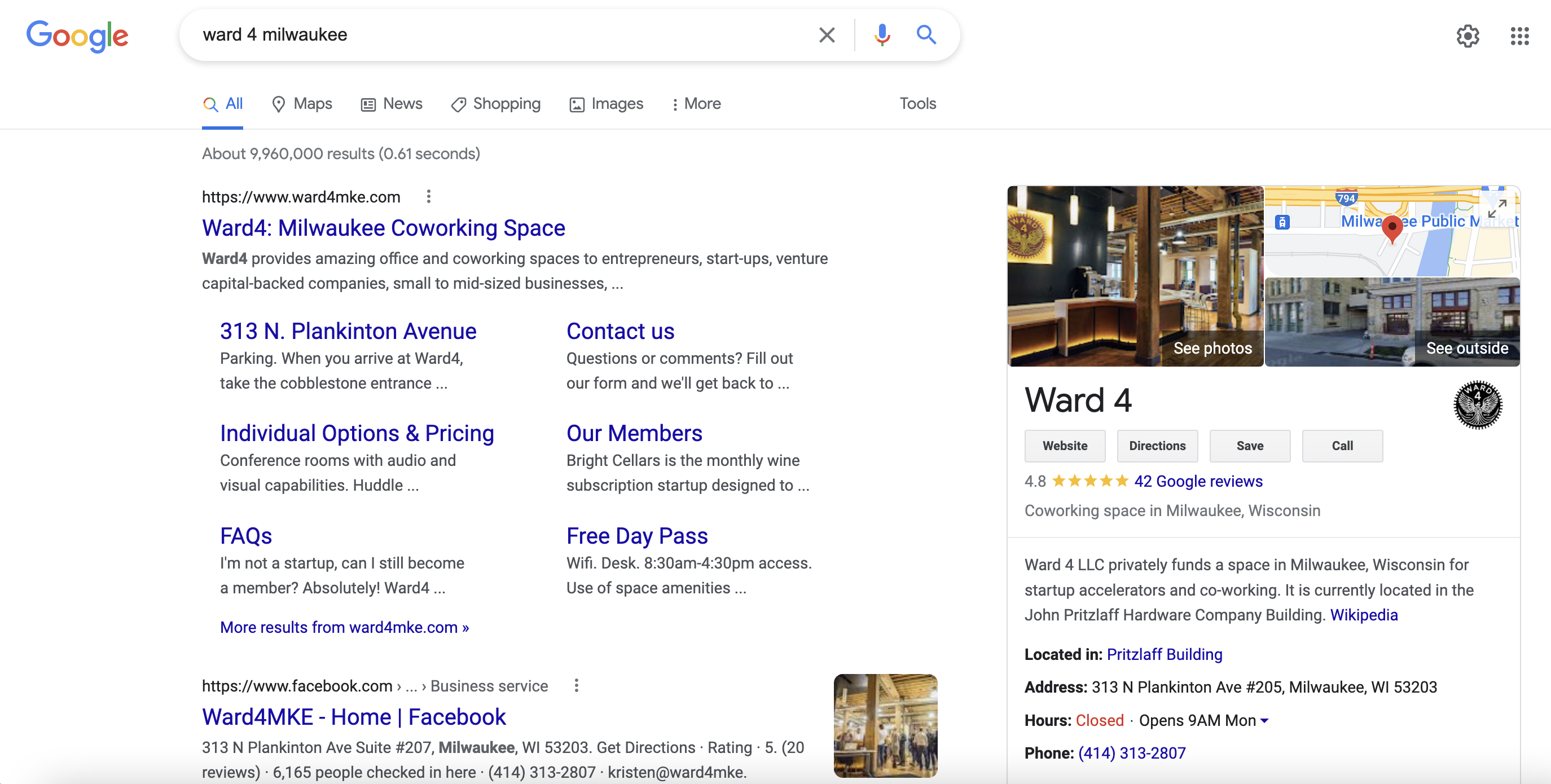 When you click on reviews, you can find written reviews left by actual customers.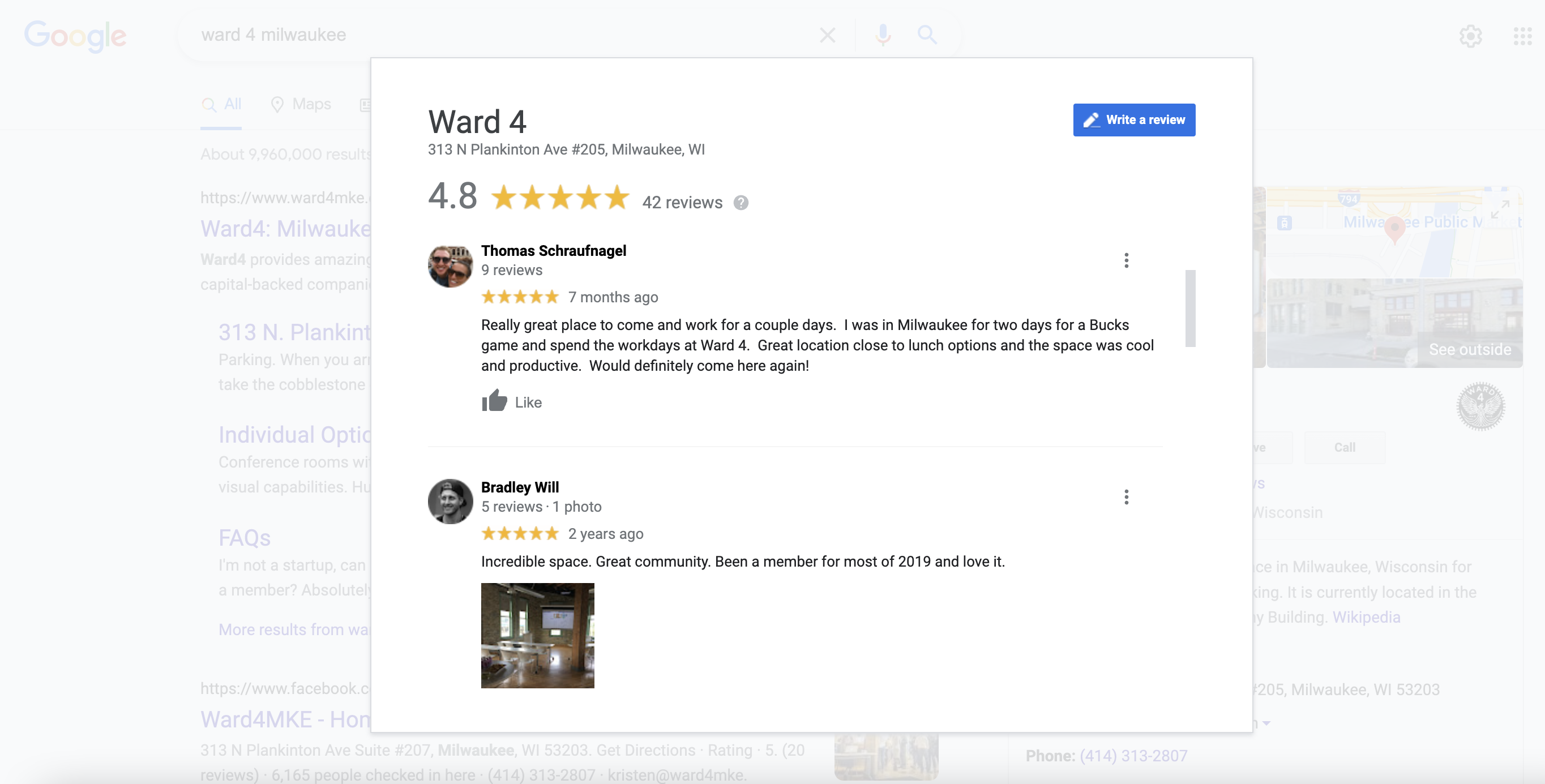 This is powerful stuff. If you have reviews on Google, be sure to look through every single review. Later in this post, we'll explain what you can do with those reviews.
Finally, head to social media, specifically the big platforms such as Twitter and Facebook. You can use a tool like Hootsuite or Sprout Social to track every mention of your business on social media. This is a lot easier than manually searching on your own.
After perusing around for an hour or two, you'll discover what people think of your brand. If you've been in business for a long time, don't worry. You don't need to go back to the beginning of time in your research. You only need to know what people have been saying within the last year because reviews do have expiration dates when they stop being persuasive.
2. Take Ownership
If you haven't already, now's the time to buy up as much online real estate as you can afford. That's starts with creating your own website, claiming your Google Business Profile, and setting up profiles on the top social media platforms that your customers use. To control the narrative, you've got to ensure that you're telling the story. And the best way to do that is by saturating the Internet with your own media. Here's a quick checklist:
Build your website, even if it's a simple postcard-type website.
Start a blog where you discuss topics that will attract your target audience and get them to trust you.
Post content regularly and interact with your target audience on social media.
Create thought-provoking podcasts that your audience wants to listen to.
Bottom line: Create your own content as a means of improving the public perception of your brand.
Create your own content as a means of improving the public perception of your brand.
Click To Tweet
But, here's a caveat: Don't just create a blog and let it collect cobwebs. To be effective, it must be updated regularly. And this goes for all of your online media, from your website to your social posts.
3. Claim Your Google Business Profile
If you have a brick-and-mortar establishment, you need a Google Business Profile. Chances are, you already have a Google Profile — even if you don't know about it yet. As we documented above, if a customer searches for your business online, even if it's only for hours of operation or directions, they're going to encounter your Google Business Profile. So, you need to take control over what they see once they get there. This is one of the most important steps you can take to manage your online reputation.
Fortunately, Google makes it super simple to claim and manage your Google Business Profile. Go here to claim your profile, if you haven't already. (It's free.)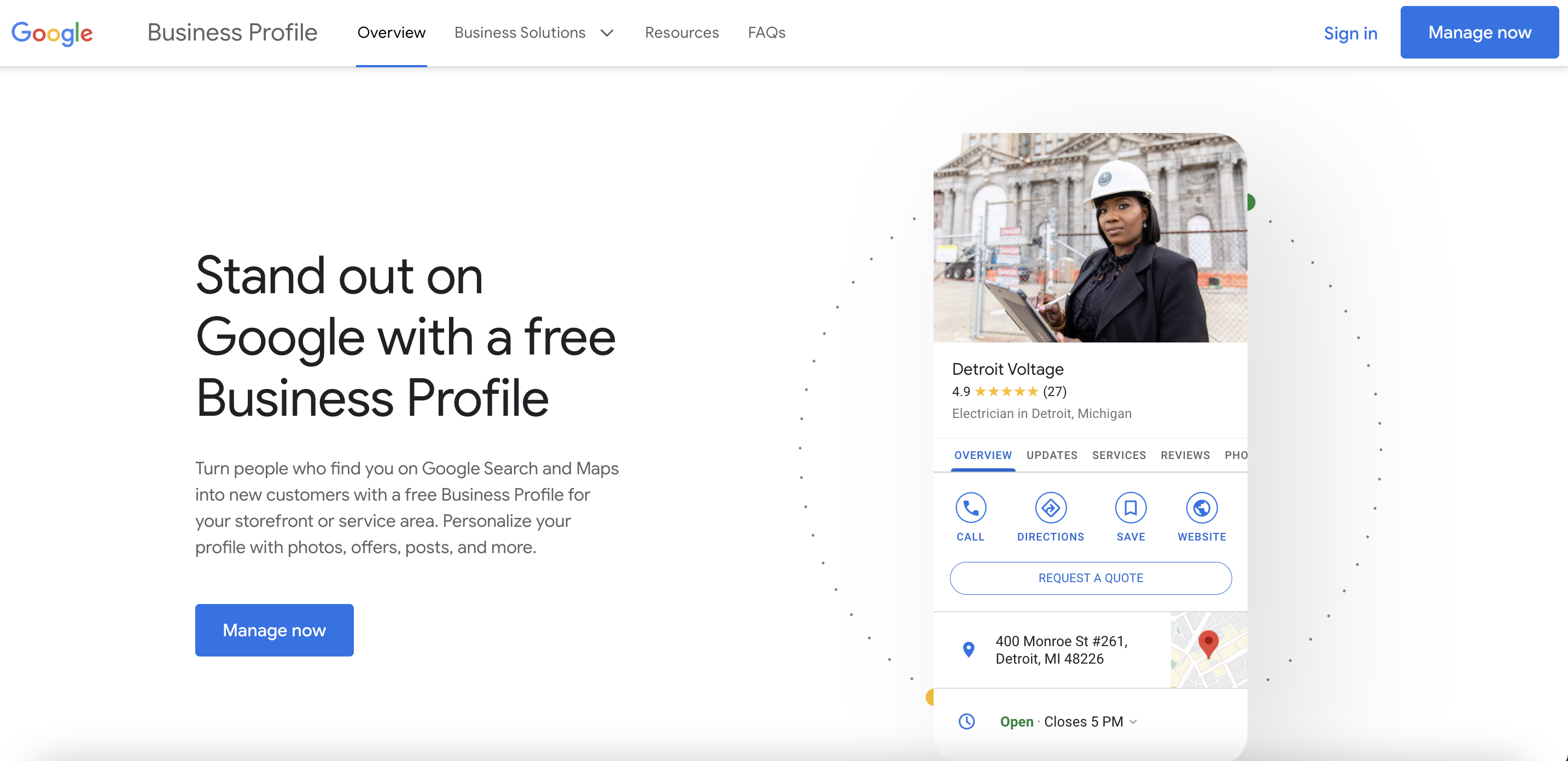 Then fully fill out your profile, leaving no stone unturned. Add photos, services, and even frequently asked questions. Then answer those questions. The goal is to make sure that your Google Business Profile is a thorough resource for your audience. When you do this, Google is much more likely to show your profile when users search for products/ services that you offer. (In other words, filling out your Google Business Profile is also great for discoverability.)
The next step is to actively maintain your Google Business Profile. Specifically, look for any reviews that customers leave on Google about your business and then respond to them. This is crucial. Even if it's a less-than-glowing review, your response can not only do a lot to repair the disgruntled customer's perception of your business, but it can also give prospective customers a favorable perception of you, too.
In addition to your Google Business Profile, be sure to claim your listings and monitor reviews left on other sites as well. This can include Yelp, Angie's List, TripAdvisor, Better Business Bureau, and more. Find out where your customers are leaving reviews (which you'll uncover by googling your business) and then set up shop at those places.
4. Get Active on Social Media
After you've created your own website and claimed your profiles on Google and other review sites, it's time to build your presence on social media pages. There are dozens of social media platforms out there, but don't overwhelm yourself by trying to maintain too many accounts. You'll only need to focus on the platforms that your target audience uses. The most popular platforms are Facebook, Twitter, and LinkedIn.
On these platforms, your goal is to humanize your business by showing your personality. This is how you'll effectively connect with the humans that you hope to do business with Participate in conversations. Start your own conversations. Encourage customers to ask questions. Respond to those questions. And don't just stick to your own profile. Look at what people are posting about your business (using social listening tools like we mentioned above, such as Hootsuite) to respond to any mention of your business — good or bad.
5. Make Changes
No one wants to hear anything negative about their business, but it will happen to every business. However, don't automatically dismiss negative reviews as part of doing business. One negative review may represent the experience of dozens of other customers who just decided not to comment (or continue doing business with you).
So, reframe these negative reviews as opportunities for you to improve your business. And when you make the changes, be transparent. Explain to your customers that you've made these changes. You can do that on your social media or your blog or even your paid marketing materials. But do let your audience know that you're open to their feedback and willing to make changes that can result in a more positive experience for them.
Final Thoughts
Managing your business's online reputation is one of the most important things you can do to ensure customer loyalty, business growth, and ongoing profitability. Fortunately, managing your online reputation isn't difficult. It simply requires regular vigilance to ensure that you're following up on every review out there about your business. And, if you encounter negative reviews, you make the necessary changes to improve your business for the future.