It used to be standard practice for a human receptionist to be camped out in an office lobby to personally greet visitors and help check them in.
In more recent years, though, some offices have chosen to adopt a virtual check-in system in addition to — or in some cases in place of — a human receptionist. These changes have helped offices save space and sometimes money, allowing administrators to direct their energies on more valuable tasks. Tablet-based check-in apps are also more private than paper logs, come with a bevy of visitor analysis features, and are "smart" enough to notify hosts of visitors upon check-in.
Today, virtual check-in systems are taking on a new role in safety with the advent of COVID-19. Eliminating unnecessary human contact in the lobby can go a long way toward reducing the spread of infectious diseases and making people feel more comfortable as they check in.
The one potential stumbling block of digital check-in systems when it comes to sanitation precautions is the need for every visitor to touch a tablet — or at least a stylus — on their way into the office.
Why Touchless Check-In is Important
Even though the novel coronavirus spreads primarily through respiratory droplets breathed in through the air from person to person, scientists believe that it's still possible to contract the novel coronavirus by touching an infected surface and then touching your eyes or mouth. That's why it's still a good idea to avoid touching objects that have been touched by other people and that haven't been disinfected.
Plus, other diseases that may survive even longer than the novel coronavirus on hard surfaces continue to present their own health threats. Touching these shared objects puts visitors at risk for those diseases, too.
In the past, we have advised our clients to keep a set of disinfected styluses near the check-in kiosk with signs that advise users to put the stylus in the "used" bin after picking it up and signing in. We think this is still a good option for many businesses.
However, some companies may have even more incentive to go completely contactless.
For example, some companies with higher visitor volumes may not want to risk running out of these disinfected styluses, or worry about the fact that visitors may very well touch the tablet and check-in counter itself in addition to the stylus — each of which should be disinfected before the next visitor.
Offices without a designated front desk administrator might not want to worry about monitoring the check-in station and disinfecting it regularly.
Finally, companies responsible for handling sensitive materials may have additional incentives to keep people from touching shared objects before they come inside.
These companies, such as those that manufacture pharmaceuticals, process food, handle volatile chemicals, or build sensitive electronic equipment, have stricter requirements for checking in visitors.
However, they may also have strict requirements about contaminants in the lab or on the manufacturing or production floor. Requiring visitors to touch things like doorknobs or check-in tablets right before they enter some of these spaces is not a great idea.
From Touchless to Contactless Check-in
Many of the companies and industries that have the strictest requirements about contamination also have the strictest requirements about security, which can create an interesting visitor management problem.
Some check-in systems try to make their systems touchless by allowing visitors to check in "remotely" via their smartphones. However, this can cause security problems. When people can just download a visitor app on their phone to check in or check in via a website, it can be more difficult to verify that they were indeed checking in when they said they were. (Plus, maybe we don't even have to mention that most people don't care to download an app just to check into your office.)
Other systems make the check-in process touchless by leaving it up to a human administrator to confirm visitor details. 
The ideal check-in solution is one that doesn't rely on a live administrator and doesn't require touching a shared device, but that can still verify the identities of those checking in.
It's a tricky problem, but we have a solution. Here's how to execute contactless check-in correctly.
The Solution: Check-in With QR Codes
You've probably seen QR codes by now.
They're the square, black-and-white checkered images you can use your smartphone's camera to scan. Once your phone recognizes the code, it typically directs you to a website that displays related information.
The Receptionist's contactless visitor management system now displays a unique QR code on the check-in screen that visitors can scan with their smartphones upon arrival. That will launch the check-in process via browser on their own devices (no app download required).
Starting the process with a unique QR code ensures that the visitors were at the screen at the exact time they say they were.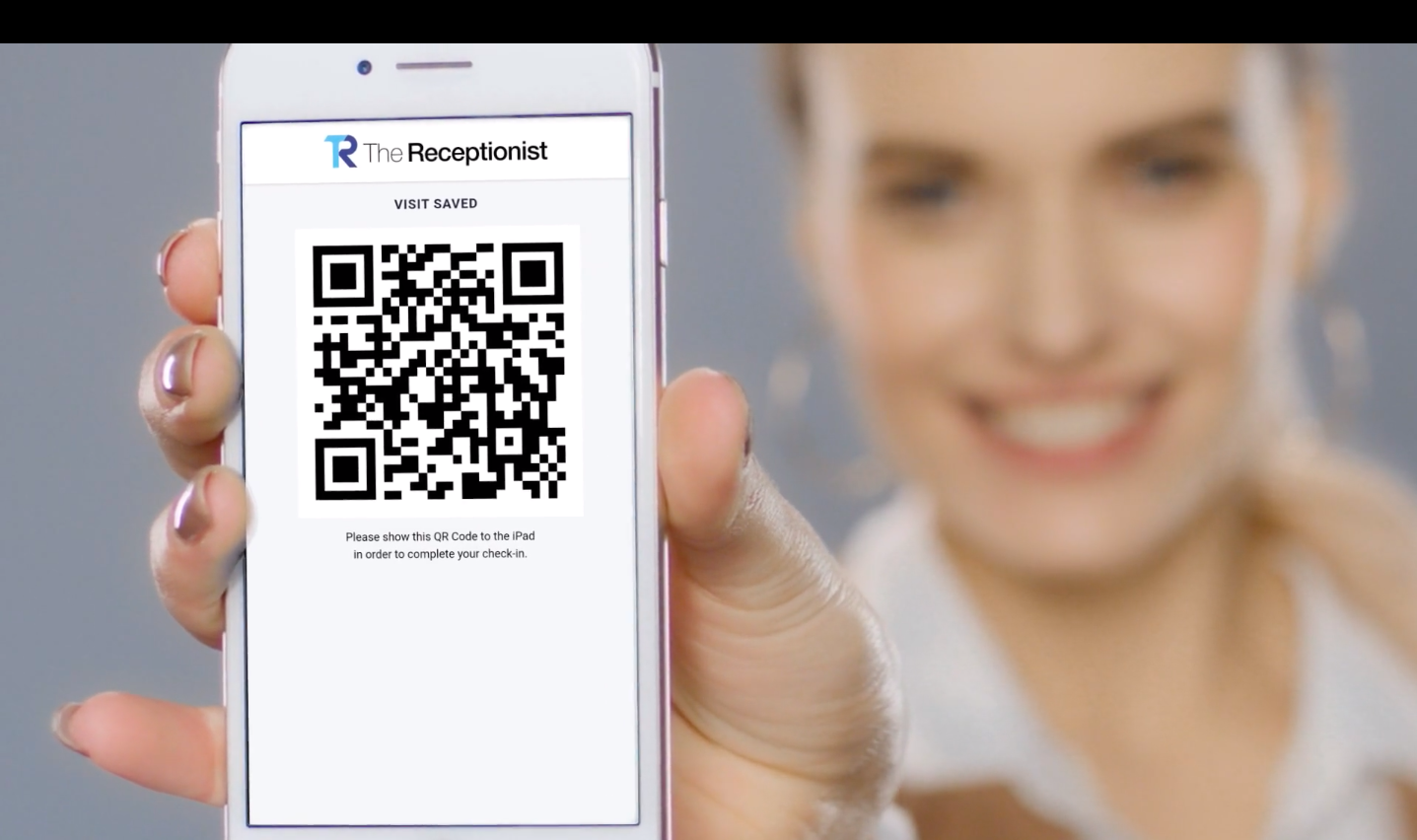 For even more security and convenience, your employees can send out unique URLs to scheduled visitors ahead of their visits so that they can begin the check-in process at home by filling in their personal info and answering any screening questions. If they complete the check-in process and screening questions at home, they'll be issued a unique QR code that they can present to the visitor check-in system's camera upon arrival.
The system will then notify visitor hosts via SMS or chat message as soon as their visitors check in.
Using this contactless process, visitors can still sign legal agreements such as non-disclosures via their smartphones, and they can still print out badges if a printer is available. We're still working on incorporating photo-taking features and returning visitor features into this contactless process, but hope to have them fully up and running soon.
Are you interested in trying out The Receptionist visitor management system to help manage your office lobby's changing priorities? You can try the full system for two weeks in our no-obligation trial. Just head over to our home page and submit your email address to get started. Or get in touch to arrange a custom demo so we can show you exactly how it would work for your business.
We make it super easy for new users to get set up with packages that include an iPad and your choice of wall mount, desk stand, or floor stand. Plus, our Radical Support® team will be on hand to help with anything you need.
We hope to hear from you soon!